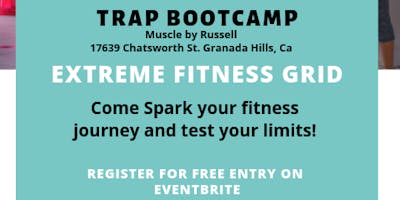 The Trap is an acronym for Transform Regenerate Actively Progress! Our Main Objective is to get music lovers moving again and inform our community on the Growing Fitnesss trends, and ways to stay healthy from the inside out.
On July 21,2019 in the city of Granada Hills , we will present the Trap Bootcamp Fitness Grid Vol. 2.  
A full one hour fitness workout, that includes 5/10 minute stations led by Certified personal Trainers.  Come and get information on training with an experienced trainer.  Come and get a feel for the style of training you want.  There will be refreshments at the end of the workouts.
Workout with trainers that have an understanding of injuries, safety and technique. The main objective is to finish the full workout with out quitting. Come and spark your fitness journey, and test your fitness level and be inspired by your peers.

Earlier Event: April 20
Trap Bootcamp Hike 4 Inspiration 4.20.19