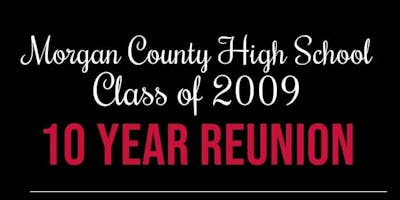 Hey Guys!! You asked and we have delivered! Below are the details for our 10 year reunion. If you have any questions please feel free to reach out to myself, Gary Walker, Jessica Veasley, or Dylan Davis.
Friday 9/27: HOMECOMING!!! We will participate in the homecoming activites as a class. First stop is the tailgate. This is held at the trackfield and all classes are welcome to participate. There will be food, games, music, and fun before the big game. Next will be Pre-game. This portion of the game is really special for us, as we are dedicating 2 trees to the new school in memory of our deceased classmates Caleb Sorhan and Dontavious Little. 
Saturday 9/28: PARTY TIME!!!! We invite you to come party with the best class to grace to Morgan County High School! The party will be held at the James Madison Conference Center (downstairs of Town 220). There will be food, drinks, games,and great music!!! Come, catch up with old friends, and take a shot.... or 2. Cocktail attire, all black!
Pricing:
Dues are $40
Each person can bring a plus one.
***  ALL Participants MUST be 21 & up***