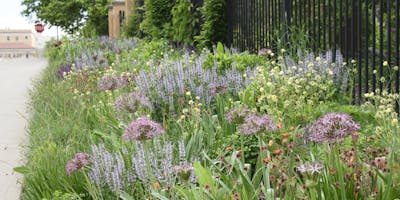 Description
This hands-on course is designed to provide participants with an in-depth understanding of the design and management of designed plant communities. It will include an exploration of sustainable, resilient, and restorative principles in the context of planting design and management.
This course will utilize the exceptional horticultural resources in and around Madison, Wisconsin including the Allen Centennial Garden, UW Arboretum, Olbrich Botanical Gardens, and The Flower Factory. Participants will explore the full continuum of designed plant communities, from touring and understanding native ecosystems to design, plant selection, and installation of a new planting.
Essential design principles will also be explored to maximize a landscape's visual legibility, accessibility, and acceptance.
Register before May 2 for early-bird rate.
About the Instructors
Benjamin Futa | Allen Centennial Garden, Director
Ben is passionate for connecting people to plants, and one another, through public gardens. Ben is most interested in the potential of urban landscapes to provide meaningful, authentic, and transformative horticultural experiences through community engagement and co-creation of green space. His particular interest lies in designing mixed perennial landscapes that embrace ecology as an essential component, harnessing the power of nature to create a more resilient, harmonious, and rewarding gardening experience.
Susan Carpenter | UW Arboretum, Wisconsin Native Plant Gardener
On the Arboretum staff since 2003, Susan teams up with garden designer Darrel Morrison, staff colleagues, students, and community volunteers to care for and monitor the Wisconsin Native Plant Garden—which is used for learning, inspiration, and enjoyment. She values how everyday garden observations, chance events, and new questions lead to rich educational opportunities, research, and community participation in science and stewardship.
Details About the Program
The program runs over 2 days, both from 9am-4pm. Lunch will be included.
Housing may be available on-campus at Jorns Hall, which is adjacent to the Allen Centennial Garden. Please contact the event organizer for more information.
Contact Information
Questions about registration, payment, etc. - Jennifer Blazek, Director of the Farm & Industry Short Course Program, [email protected] or 608-890-2549
Specific questions about content, material, and organization - Benjamin Futa, Director of the Allen Centennial Gardens, [email protected] or 574-310-9623