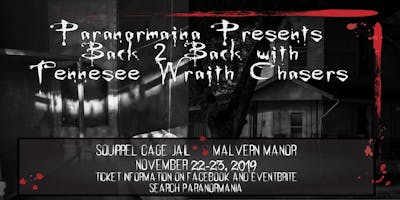 Join Paranormania as they host a dual investigation event with Chris and Mike from Tennessee Wraith Chasers.  Recently they have been on Travel Channel's "Haunted Towns" and "Haunted Live."  Join the team, TWC and other special guests for two nights of paranormal experinces and fun!
**DISCLAIMERS**
NO REFUNDS, ALL TICKET SALES ARE FINAL
BOTH LOCATIONS ARE LEGITIMATE HAUNTED LOCATIONS THAT CAN BE INTENSE AT TIMES
AGE 11 AND UP ONLY
PLEASE BE PREPARED FOR COLD WEATHER, NEITHER LOCATION HAS HEAT TO THE ENTIRE BUILDING
This investigation is a 2 night event at two of Southwest Iowa's greatest haunted locations. 
Friday November 22, 2019: Squirrel Cage Jail, 226 Pearl St, Council Bluffs, Iowa
Because the Squirrel Cage Jail is a smaller venue, 2 groups will be investigating at seperate times.  This is to ensure that everyone is able to have a quality experience.  This will include a history of the Squirrel Cage Jail and investigation with the crew!

EARLY BIRD: 6:00-9:30

NIGHT OWL: 10:00-1:30

Saturday November 23, 2019: Malvern Manor, 103 E 3rd St, Malvern, Iowa
3:30-4:00: Check in at the Manor4:15-5:15: Paranormal Q and A with Guest Investigators5:15-6:30: Meet and Greet with Guest Investigators, Paranormal 101 class, Intuitive Investigation class6:30-7:30: Dinner (Pizza and drinks provided by Paranormania)7:30-8:00: History of Malvern Manor by Josh Heard8:00-11:00 PM: Investigation of Malvern Manor (Each guest will investigate with groups and rotate around the Manor. This will ensure that everyone gets to investigate with all the guests.)11:00 PM - 9:00 AM: Free roam investigation and Isolation sessions in the Attic