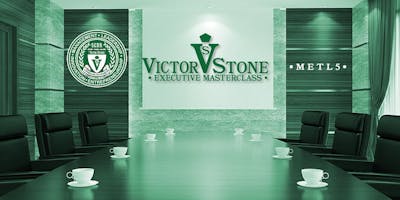 World's leading business strategy seminar.
Designed for HIPO (high-potential) executives.
Developed by client request to be a career game-changer.
Limited class size 30 for optimum peer interaction and networking.
PARTICIPANTS: HIPO Executives
Strategic | Tactical | Operational Levels
Public | Private Companies
BENEFITS MOST:
CEOs, COOs, CFOs
Executive VPs: Ops, Finance, Marketing, HR, IT
General Managers
PREREQUISITES:
Ability to deal effectively with chaos and complexity.
Conscientious.
Creative.
Emotionally stable - Cool under fire.
Open-minded.
Non-passive aggressive.
Risk-taker.
Sense of humor.
Strong leader.
Team player.
Master's Degree recommended.
Ten or more years of management experience recommended. 
VENUE: 2-Day Business Strategy Masterclass
Location: Four Seasons Hotel
Things to Do: Las Vegas
COST: Two-Days per Person
Registration:
Early Registration $2,500 USD–ends 45 days before class.
Regular Registration $3,000 USD.
Includes: Training Materials | Continental Breakfast | Buffet Lunch.
Participant's Responsibility: Travel-Meals-Accommodations.
AGENDA
Times
Continental Breakfast at 8:00 AM
Business Strategy Masterclass begins at 8:30 AM each day.
Break at 9:30 AM-10:00 AM
Buffet Lunch: 12:00 PM-1:00 PM
1st Day 3PM ends so you may enjoy your venue of choice.
2nd Day 3PM ends so you may catch a flight, if need be.
Modules
Facilitator presentations, case studies, business analysis, and action planning.
Presented sequentially in five modules following our proprietary 5CBR℠—Strategy Formulation Methodology.
PRESENTERS
Two Senior Business Strategy Facilitator-Coach-Consultants
Experience–Expertise–Education–Excellence
BRIDGING THE GAP BETWEEN BUSINESS SCHOOL & BUSINESS SUCCESS
Highly successful businesses start with identifying and end with delivering The 5 Crucial Business Results (5CBR℠)—the frequent fatal missed-steps in effective business strategy development and delivery.
5CBR℠ represent criteria executives at all three strategy levels (strategic-tactical-operational) must give special and continued priority attention for continued company and career success.
Our research-based, results-oriented executive masterclass is galvanized by our proprietary 5CBR℠ | Strategy Formulation Methodology—providing executives with a comprehensive, unified approach to strategic competitive advantage, tactical alignment effectiveness, operational excellence, and the requisites for sustained superior business and career performance.
Classes are precision-focused and specifically designed for busy executives who recognize the importance of 5CBR℠ for future business success and the requisite competencies executives must have to deliver 5CBR℠.
Masterclass size is limited to 30 participants in order to achieve optimal collaborative supportive peer interaction and networking.
Facilitator presentations, case studies, business analysis, and 5CBR℠ action planning highlight the executive masterclass.

TAKEAWAYS
Updating, broadening and optimizing your executive leadership style for continued career advancement.
Developing a unified view of your business context with a global perspective.
Building a total-team organization for sustainable competitive advantage through the synergistic merging of best practices East-West-Business-Military.
Improving executive decision-making capabilities.
Helping executives better understand the core competencies the organization needs.
Moving beyond the either/or limits of a management versus leadership mindset.
Upgrade to a unified, holistic view of the organization that aligns and integrates all the major management disciplines into a master mind-set model.
Refining the choice of strategic initiatives.
Improving strategy alignment.
Enhancing your executive career potential.

ABOUT US
MASTERCLASS FACILITATORS
Experience–Expertise–Education–Excellence
Our 2-day masterclass is led by two facilitator-coach-consultants.
1. Senior Business Strategy Expert with:
Ten or more years of CEO experience.
Five or more years of profit-center general business management experience with P&L authority and accountability.
Commissioned Officer service from a NATO member country with both command and general staff experience.
International business experience.
Ph.D., D.B.A or at a minimum a Master's Degree from a major international public or private university.
Doctoral level research in global executive development.
2. Senior Business Leadership Expert with:
Ten or more years of business ownership experience.
Five or more years of C-Level executive experience.
Five or more years of profit-center business leadership experience with P&L authority and accountability.
International business experience.
Entrepreneurial expertise.
Intrapreneurial expertise.
Proprietary Intellectual Capital.
Our Business Strategy Masterclass is galvanized by our proprietary 5CBR℠ | Strategy Formulation Methodology—providing our clients with a world-class comprehensive, unified approach to strategic competitive advantage, tactical alignment effectiveness, operational excellence, and the executive leadership requisites for sustained superior business and career performance.
Trust-Experience-Integrity-Expertise.
Through our extensive business and military strategy expertise and understanding of Crucial Business Results (CBR) we continue to test, refine and apply our proprietary methodologies developed over nearly five decades to help our clients dramatically improve both top and bottom line performance.
Sustainable Business Success.
Our success is due in large part to companies like Apple, AT&T, BMW, Boeing, BJC Healthcare, Four Seasons Hotels & Resorts, J.P. Morgan Chase & Co, Marriott Hotels, Microsoft, Nextel, NASA, NBC, Nielsen Media Research, Nike, Nordstrom, ChevronTexaco, Saks Fifth Avenue, Saudi Aramco and Zions Bancorporation who have shared their business challenges resulting in our design and development of industry-leading strategy development solutions for world-class organizations and their leaders based upon real world challenges.
We apply our proprietary intellectual capital across all industries, helping our clients align their business infrastructure, resources and operations to meet global marketplace demand, competitiveness and achieve sustained business success.
Consistent Results.
We have a track record of helping our clients create opportunities for significant improvement in their overall performance through focus on delivering "The 5CBR℠ for Sustained Career and Business Success."
Performance Excellence.
Emphasize Executive Performance Excellence as exemplified by the Baldrige Criteria: Leadership, Strategic Planning, Customer Focus, Measurement-Analysis-Knowledge Management, Workforce Focus, Process Management, and Results.
Addressing and synergizing mission essential key concepts from traditional Executive MBA (EMBA), Global MBA (GMBA) and Mini-MBA core and advanced curriculum: Financial Statement Analysis for Executive Management, Global Business and Competitiveness for Executives, Human Behavior and the Management of Organizations, Complex Adaptive Systems (CAS) Integration, Information Technology for Executives, Macroeconomic and Microeconomic Analysis for Executive Management, Managerial Accounting for Executives, Marketing for Executive Management, Operations Management for Executives, Organizational Investment Strategies for Executives, Quantitative and Qualitative Decision Methods for Executives, Risk Management and Uncertainty in Business, Operations Management, Financial Accounting, Organizational Design and Development.

CLIENTS
TRUSTED BY ORGANIZATIONS AROUND THE WORLD
AAA, Advanced Semiconductor Materials-Japan, Aegon N.V., Airlines Reporting Corp. (ARC), Alcoa Inc, Allied Medical Supply Inc., Alloy Surfaces Inc., Anethcdc, ASM America, AWAL IT Services Co , New Car Dealers Association-NCDA British Columbia, Bayer AG, BMW, Boeing, BJC HealthCare, Calista Corporation, Cerebra TRAINING Systems-Canada, Caterpillar, CenterPointe Resources, Inc., Chevron Corporation, City of San Jose California, Coca-Cola Company, Cognera, Dartmouth-Hitchcock Medical Center, Daimler-Chrysler, Department of Homeland Security, Detroit Metropolitan Wayne County Airport Authority, Emory University Hospital, European Health Spas, Facility Group Brazil, FCL Logistics , Friedman Corporation, G&D Integrated, GoDaddy.com, Grand Canyon Resort Corporation, Hawaii Employers' Mutual Insurance Co,, HealthSouth, Hitachi Cable Manchester, Inc., Honda Motor Company, Home Depot, Honeywell, Hunter Public Relations, Ingersoll-Rand/TAO, IBM, Institute of Public Administration Saudi Arabia, Jack LaLane Health Clubs, JDS Uniphase Corporation, Linc Group, Los Alamos National Laboratory, Meggit Silicone Products-UK, Mercedes-Bentz, MoneyGram, Nationwide Mutual Insurance Company, Navajo Nation, Neohapsis, Nextel Communications, Nexen Inc. Canada, Nike, Nevada State Bank, Norbest, Inc., NGAS Northrop Grumman Astro Aerospace, Novartis International AG, Peak Health Solutions, Pearson plc, Pelican Energy Consultants, LLC, Progrexion Marketing, Providence Health System, Ritz-Carlton, Sakata Seed America, Inc., Solar Turbines Incorporated, Science Applications International Corporation (SAIC), SNF Holding Company-France, Solar Turbines Incorporated, Signum Advisors, Inc., Staples, Situs Holdings, Synergetics USA, Inc., Technigro Pty Ltd Australia, Tenix, LADS, Inc. Australia, Touchstone Behavioral Health, Transamerica Corporation, US Army, US Department of Defense, US Department of Health and Human Services, US Navy (NAVAIR), Valero Energy Corporation, VMware, Walgreens, WCRA, Xerox, and Zions Bancorporation.
REGISTRANTS TERMS & CONDITIONS
By registering for a MASTERPRENEUR℠ MasterClass you acknowledge that you have read, understand and agree to be bound by the REGISTRANTS TERMS & CONDITIONS at the following link: 
MASTERPRENEUR LLC Registrant Terms & Conditions
ABOUT US | CLIENTS | INSTITUTE | COACHING | CONSULTING | LEGAL | PRIVACY POLICY 
— PROPRIETARY INFORMATION

MASTERPRENEUR℠

BUSINESS STRATEGY MASTERY℠

5CBR℠

WHEN MONEY MATTERS MOST®

— HOW MAY WE HELP! 

CONTACT US

©1970-2018 MASTERPRENEUR LLC. ALL RIGHTS RESERVED.