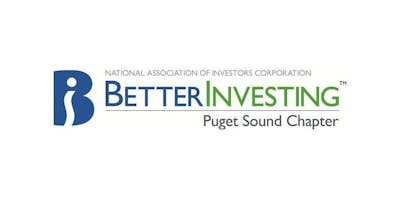 Convenient Location - Great Teachers - New Classes 
 
The Puget Sound Chapter (PSC) Investors Education Conference (IEC) is BetterInvesting's largest chapter event. At this one-day event there will be a variety of classes for people at all skill levels.  Come and meet nationally-known investment instructors.
This year's Investors Education Conference (IEC) will be held at Mercer Island Community Center.   The address is 8236 SE 24th St.; Mercer Island.
Registration includes a box lunch and a full day of classes and presentations.
 Classes
Whatever your financial goals and skills, we'll provide you with the opportunity to choose an educational roadmap that's right for you.  The hard part will be picking the topic tracks you want to attend. Classes this year will include presentations on:  


Personal Finance


Stocks


Bonds


Club Management

Income producing Real Estate
Investment plan for busy people

Class hours are:


Welcome and Opening Remarks - 8:45 am


Classes run 9 am to 4:20 pm.


Final class schedules and class descriptions will be communicated as soon as they are ready.   


 
Your Registration Includes

A full day of classes!
Access to an online site for handouts for all classes plus bonus materials!
Lunch choices are Turkey sandwich, Chicken on gluten free bread, Ham sandwich, vegetarian sandwich.
Free Parking

Registration Policies


Advance registration is strongly recommended!  


Registration on-site is on a space-available basis.


Reservations will be confirmed by email if email address is provided.


All attendees will automatically be entered in the door prize drawings. You must be present to receive prizes.


You may send a substitute if the person originally registered is unable to attend at the last minute.  Please check-in at Registration.


Refund requests received after November 1, 2019 cannot be honored.


If we need additional information you will be contacted via email or phone – PLEASE RESPOND PROMPTLY!


For questions or further assistance with registration, please leave a message on the PSC Event Hotline at (206) 935-0861 or via email: [email protected]


Hotel suggestion
If you are coming from outside the immediate Puget Sound area, Days Inn Bellevue is offering a special rate for IEC attendees of $67/night (plus tax). This includes free continental breakfast, wi-fi access and parking.  Contact the hotel at 425-643-6644 and mention the Quality Inn (formerly  Days Inn) Bellevue and the  BetterInvesting Group room agreement or Shaun Danielson. The rate applies for Nov 8 and 9. 
This hotel is near the intersection of I-405 and I-90, and is just a few miles from the IEC venue at the Mercer Island Community and Event Center.