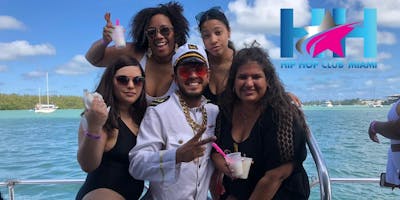 Miami Party Boat Package | Miami Booze Cruise | Miami Hip Hop Party Boat
 How does the package work?                                                                                                                          Guests check in and enjoy 2 for 1 discounted drink specials. After check-in guests are transported Via Party Bus to the Marina. Once aboard the Party Boat, get ready for 3 hours of non stop Partying! The boat will also stop so guests can snorkel, swim and take STAFF PROVIDED rides on the back of the jet ski and go tubing. Also included in your ticket is a 3 hours of unlimited free mixed drinks light snacks. There will also be a live DJ/MC on the boat playing the best Hip Hop, Latin and top 40. The party bus also returns guests safely back to South Beach.
Reservations placed early will guarantee your spot
Please note: Because spots sell out fast when reserving with a large group it strongly recomended to reserve as a group and not individually to ensure all members of your party will be on the same boat.
Please read complete event!
Boat Check-in time:
Check-in time stated is the time check-in starts, the boat party starts approximately 1.5 hours after the check-in start time.                                                                                                                  
What's included in the package?

2 for 1 discounted drinks at check in 

3 Hour boat ride                 

Complementary Party Bus transfer to the dock 

STAFF provided passenger jet ski rides

Tubing

Snorkel gear (upon request)

Swim stop

Unlimited mixed drinks  

Light Snacks 

Live Dj Playing the best Hip Hop, Latin and Top 40

Twerk off competition

Party Bus transfer back to South Beach
Package Price: $99 per Person
The ticket here is $29 per person to reserve your spot, the balance of $70 per person is due upon arrival to the check in location the day of your reservation before said services are rendered to you.
After reserving, a reservation confirmation will be sent to you via email and will include all information needed for your reservation.
Questions? We can be reached at 305-714-2229 by email: [email protected] Our hours of operation are: 10:00 a.m.- 9:00 p.m. 7 days a week. We take pride in having the fastest response time in the industry.
*Check in time is subject to change slightly, If there is any change in the check in time guests will be notified prior to their reservation date via email. All times stated are check-in times, the check-in process is one hour long, then the party boat following after. Please keep in mind that the boat party may run later then the stated time due to factors such as traffic.
THIS IS A RAIN OR SHINE EVENT.
Because you are reserving for a guaranteed spot on a boat in which has limited occupancy, all reservation deposits are nonrefundable for any reason. 7% state sales tax will be added to the balance due.
Miami Party Boat Package | Miami Booze Cruise | Miami Hip Hop Party BoatMiami Party Boat Package | Miami Booze Cruise | Miami Hip Hop Party BoatMiami Party Boat Package | Miami Booze Cruise | Miami Hip Hop Party Boat