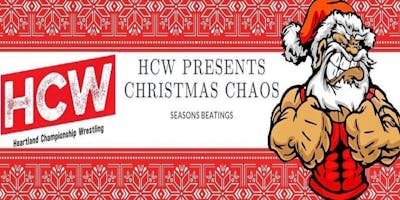 HCW returns to the Battell Center in Mishawaka for another HUGE event! At our last event, we saw chaos ensue as we thought Tony Thunder captured the HCW World Heavyweight Championship from Travis Southern, only for the decision to be overturned. What will happen when The Rat Pack and The Knights of the Squared Circle are in the same building once again? You'll see:
REAL WORLD CHAMPION: HCW WORLD HEAVYWEIGHT CHAMPION TRAVIS SOUTHERN
HCW NATIONAL CHAMPION JAYDEN QUICK
CHRIS OWENS, TONE C, TONY THUNDER, ROGER LANIER, DIESL TRACZ, STEVEN DROCHNER, ROGER LANIER, JOHNNY PLEXX, SADON, THEO STORM, AND MAKING HIS HCW DEBUT: LUCIUS PAGE!
You won't want to miss this amazing show! Be ready to be loud as Christmas Chaos will be a taping for HCW's television show HCW Insurgence on YouTube. 
Don't miss HCW Christmas Chaos! Advanced tickets start at only $5!