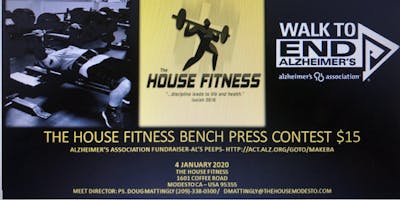 Have a fun filled day full of healthy competition for a great cause.  Come out and show us what you've got,  For this first annual House Fitness Bench Press Competition!! 
Lifters will weigh in while wearing their lifting attire and submit thier opening attempts for all three lifts.
Equipment That Can Be Used By Competitors:Chalk, a weight belt, and knee and wrist wraps. 
WEIGH-INS: All Women/Men Friday October 18, 2019 from 12pm-7pm
CHECK IN: Saturday Octoer 19, 2019 at 8:45am
COMPETITION START TIME: 10:00am
Free event shirts for all competitors.

raffle prizes

AWARDS FOR 1ST. PLACE IN EVERY CLASS

ALL COMPETITORS MUST BE PRE-REGISTERED PRIOR TO OCTOBER 18, 2019 & WAIVER MUST BE COMPLETED. FIND IN LINK BELOW!
http://thehousemodesto.com/wp-content/uploads/2019/09/HF_BenchPressComp_App.pdf
ALZHEIMER'S ASSOCIATION FUNDRAISER - TEAM AL'S PEEPS. FIND IN LINK BELOW IF YOU WOULD LIKE TO MAKE A DONATION TO THE TEAM!
http://act.alz.org/goto/makeba