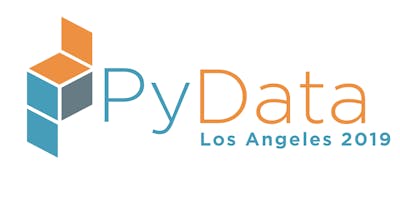 PyData Los Angeles 2019
3-5 December 2019
PyData brings together both users and developers of data analysis tools to share ideas and learn from each other. The goals are to provide data science enthusiasts, across various domains, a place to discuss how best to apply languages and tools to the challenges of data management, processing, analytics, and visualization.
Ticket costs will support the PyData Community through donations to NumFOCUS, a non-profit public charity promoting and supporting the ongoing research and development of open-source scientific data tools through educational, community and public channels. Proceeds will go towards programs such as project fiscal sponsorship, Diversity and Inclusion in Scientific Computing (DISC) initiatives, project grants, and scholarships. Find out more information about NumFOCUS here: http://www.numfocus.org/
Ticket Pricing
Early Bird Individual 3-Day Pass - $325.00 
Early Bird Corporate 3-Day Pass - $550.00 
Early Bird Startup 3-Day Pass - $450.00 
Early Bird Student 3-Day Pass - $200.00 
Early Bird Individual Talk Pass - WED & THUR ONLY - $200.00 
Early Bird Corporate Talk Pass - WED & THUR ONLY - $375.00 
Early Bird Startup Talk Pass - WED & THUR ONLY - $275.00 
Early Bird Student Talk Pass - WED & THUR ONLY - $150.00 
Early Bird Corporate/Start-up Tutorials Pass - TUESDAY ONLY - $175.00 
Early Bird Individual Tutorials Pass - TUESDAY ONLY - $125.00 
Early Bird Student Tutorials Pass - TUESDAY ONLY - $50.00 
Open Source Sprint ONLY Pass - TUESDAY ONLY - free
Individual 3-Day Pass - $400.00 
Corporate 3-Day Pass - $600.00 
Startup 3-Day Pass - $500.00 
Student 3-Day Pass - $275.00 
Individual Talk Pass - WED & THUR ONLY - $250.00 
Corporate Talk Pass - WED & THUR ONLY - $400.00 
Startup Talk Pass - WED & THUR ONLY - $300.00 
Student Talk Pass - WED & THUR ONLY - $200.00 
Corporate/Start-up Tutorials Pass - TUESDAY ONLY - $200.00 
Individual Tutorials Pass - TUESDAY ONLY - $150.00 
Student Tutorials Pass - TUESDAY ONLY - $75.00 
For additional informaiton about PyData LA 2019: https://pydata.org/la2019/

Interested in Sponsoring? Contact us at: [email protected]
 
PyData is organized by 
Follow @NumFOCUS & @PyData on Twitter 
FAQs
Can I be provided an invoice for my ticket? 
Yes, please email [email protected] to request an invoice and include the "Bill To" information and any additional information you would like included on the invoice. 
Do I need to register for sprints on Tuesday if I have a tutorial ticket?
No, sprints are open to anyone with a tutorial or 3-day pass. However, please register a free sprint pass if you would like to attend but do not have a tutorial or 3-day pass. 
Do I need to bring my laptop?
Yes, we recommend all attendees bring a laptop to the event. 
Where can I find the CFP, Sponsorship information, and volunteer sign up? 
Please visit https://pydata.org/la2019/
Are there ID requirements or an age limit to enter the event?
While an ID is not required, we ask that you have one available in case there are any questions about your registration. Attendees under age 14 must be accompanied by an adult.
Is my registration/ticket transferrable?
Yes, registrations are transferable. To transfer your ticket, please email [email protected] with the name and contact information of the original ticket-holder and the person to whom the ticket will be transferred. No transfers will be accepted after the beginning of the event.
What is the refund policy?
Full refunds are available when cancellation is made prior to 7 days before the start of the event. Within 7 days of the start of the event, cancellations will be refunded at 50%. No refunds will be available for any cancellations made on or after the start date of the event.

How can I contact the organizer with questions?
You can reach us by email: [email protected]