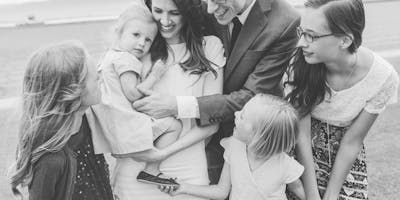 Come learn how to use your power as a parent to create a happy home! This 5 hour workshop will be filled with real life application, role playing, discussions, laughter, and lots of note taking.  Be ready for light bulb moments and life changing simple parenting truths that will greatly uplift the enviroment in your home!
During the workshop Ralphie from Simply on Purpose will teach parents:
-why children behave a certain way
-what to do to encourage them to behave well
-what to do to keep them behaving well
-what to do when they misbehave
Included in the ticket price is an original Simply On Purpose Workbook, a delicious catered dinner by the University, and a thank you gift to wish you well on your parenting journey.  
Ralphie strongly believes that the best investment ever made is in the family. Thank you for being here and for believing in families too. We look forward to seeing you soon!
***Because of the strong interest in this event we have decided to forgo the tables and have attendee's sit theater style.  
***We are offering a scholarship program. There are very limited spots and applications go through a screening process.  You will be notified within 2 weeks if your application was approved.  If you'd like to apply click here.
FAQs:
1. Tickets are per person. 
2. Dads are highly encouraged to come.
3. Babes in arms are welcome.
4.  If there is more than one session choose the time that works best for you.  These are repeat sessions.