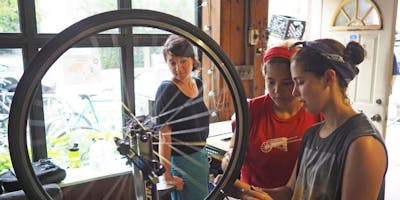 Want to learn how to fix up your old bike in the basement, or build up a new one from old parts? Over 6 weeks, this class will cover completely taking apart, cleaning and rebuilding a bicycle. You will learn how to repair flat tires, overhaul bearing systems, replace brake and shifter cables and housing, adjust brakes, shifters and derailleurs, and do basic problem-solving on your bike. Participants will practice this all in pairs on a bike that has been donated to BSBC and which will eventually be sold or donated to someone in need.
This 6 session class will take place 9 AM - 12 PM Sundays at the BSBC, from May 26th through June 30th (5/26, 6/2, 6/9, 6/16, 6/23, 6/30).
 
FAQs
 
Are there ID or minimum age requirements to enter the event?
You must be 18+ to register for this class.
 
How can I contact the organizer with any questions?
Email [email protected] or [email protected]
 
Do I need prior experience working on bikes?
No! This series of classes is designed to build bike maintenance skills from the ground up.
Can I attend only one or a few weeks, or pay per week?
The course is designed as a collaborative learning experience, so to get the most out of the course, participants should try to attend class every week. Unfortunately, we cannot charge on a per-week basis.
Do I need to be a member?
No! In fact, a free 3-month membership is included when you register.
How much does it cost?
The cost is $90.00 + ticketing fees. This money will go to cover instructional resources and the use of the BSBC space.
Are there any perks?
Yes! With the cost of registration you will get a free 3-month membership to BSBC ($30 value, which grants  access to shop tools and space during shop hours) and $15 worth of BSBC shop credit to spend on used parts.