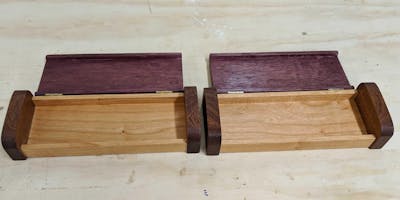 We will be learning how to make an intermediate level, two-tone box for jewelry, pens/pencils, or whatever you'd like to put in there! Focus will be on making a mortise and tenon joint, installing barrel hinges, using the dado saw to make large cuts, and using a shoulder plane to round out the top of the box. If time allows, we will apply flocker to the inside for a nice velvety finish.
This is an intermediate level class, designed for people with some woodworking experience. A great place to start as a novice is our Simple Box with Lid workshop, which will get you the skills and comfort to be ready for this next level class.
MakeHaven members: register here for the member price of $45!