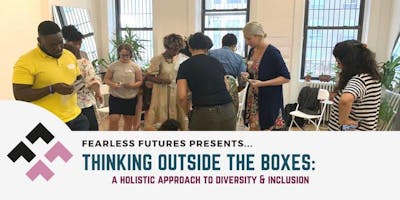 Tuesday, December 3rd, we are offering an introductory breakfast workshop.
How do leaders create an inclusive culture within their organization? 
What tools can they use to better understand the complexity of diversity and combat the underlying issues preventing powerful change? 
Most importantly: what needs to be done to make diversity and inclusion a reality?

What we know is this... 
The common method focusing on issues of diversity individually is redundant and unsuccessful.
To truly be effective, we need to change how we approach those who check multiple diversity boxes. 
Only then will developed solutions influence long lasting change. 
This breakfast workshop will deploy our unique participative and experiential approach and will be an introduction to how leaders who care about making diversity and inclusion happen can sharpen their thinking outside of and across diversity boxes as you design and lead on making inclusion a reality.

FAQs
How can I contact the organizer with any questions?
Please email [email protected] with any questions. 
Will lunch be provided?
There will be light refreshments available throughout the day.  
Is it an accessible space?
The workshop venue is wheelchair accessible. After registration other and or additional accessibility requirements (visual, audio, etc) will be gathered a week prior to the workshop. 
*Fearless Futures reserves the right to use any photograph/video taken at any event, without the expressed written permission of those included within the photograph/video.*