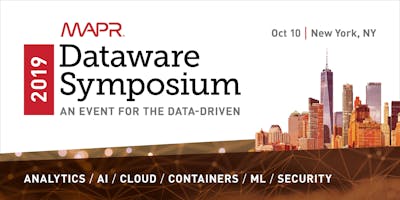 Dataware Symposium New York:
One secret ingredient to solve for your three biggest data challenges.If you're like most organizations, you're struggling to solve for three big data challenges along your AI and analytics journey:1) Feeding data-hungry applications and tools2) Orchestrating your data across data silos3) Managing data from edge to cloudWe're ready to share the secret ingredient that solves for these data challenges and more. Hint: The secret ingredient is Dataware. Come join us at Dataware Symposium to learn more.Whether you're a developer, data scientist, CxO, or anyone in between, this is an event you won't want to miss. With Dataware, we will pave the way for a better future for AI and analytics.
Areas of Focus:
Use cases, artificial intelligence, data analytics, edge analytics, analytics in the cloud, hybrid and multi-cloud, containers, microservices, data and cybersecurity, intelligent applications, global event systems, Hadoop and friends, IoT transformation
We look forward to seeing you in New York!

AGENDA
8:00a-9:00a | Breakfast/ Registration
9:00a-9:10a || Intro to the Day
9:10a-9:35a || Unlocking AI Value at Scale: 3 Building Blocks and 1 Massive Mistake to Avoid || Jack Norris, SVP Data & Applications, MapR
9:35a-10:00a || Customer break through presentation
10:00a-10:20a | Break
10:20a-10:45a || Plat. Sponsor
10:45a-11:15a || Featured Keynote
11:15a-11:40a || Gold Sponsor
11:40a-12:00p || Stories from the Edge  
11:40a-12:40p | Lunch
12:40p-1:20p || Demo - Predictive Maintenance   
1:20p-1:40p || Customer break through presentation 
1:40p-2:05p || Gold Sponsor 2
2:05p-2:30p || Technical Advocate
2:30p-2:50p | Break
2:50p- 3:00p || Silver Sponsor
3:00p-3:25p || Driving Data-Driven Enterprise Transformation Using Kubernetes, Cloud and Edge || Ted Dunning Ph.D., Chief Application Architect, MapR 
3:25p-3:35p || Silver Sponsor
3:35p-3:45p|| Silver Sponsor
3:45p-4:15p || Expert Panel
4:15p-6:00p | Meet the Experts Happy Hour
** Interested in Hands-On Lab? (Dataware Hands-On Lab, a workshop for developer and data scientist enablement, is an all-inclusive forum for technology practitioners to get hands-on experience using the latest tools and techniques - Register here)

Featured Speakers
Jack Norris, Senior Vice President Data & Applications at MapR Technologies
Jack drives understanding and adoption of new applications enables by data convergence. With over 20 years of enterprise software marketing experience, he has demonstrated success from defining new markets for small companies. Jack's broad experience includes launching and establishing analytic, virtualization, and storage companies and leading marketing and business development for an early-stage cloud storage software provider. Jack has also held senior executive roles with EMC, Rainfinity (now EMC), Brio Technology, SQRIBE, and Brain and Company. Jack earned an MBA from UCLA Anderson and a BA in Economics and honors and distinction from Stanford University.
View Jack's LinkedIn profile
Ted Dunning Ph.D., Chief Application Architect at MapR Technologies
Ted Dunning is Chief Application Architect at MapR and has years of experience with machine learning and other big data solutions across a range of sectors. Ted was the chief architect behind the MusicMatch (now Yahoo Music) and Veoh recommendation systems. He built fraud detection systems for ID Analytics (later purchased by LifeLock) and he has 24 patents issued to date plus a dozen pending. Ted has a PhD in computing science from the University of Sheffield and is active with open source projects as a committer, PMC member, mentor and currently serving as a board member for the Apache Software Foundation. When he's not doing data science, he plays guitar and mandolin. He also bought the beer at the first Hadoop user group meeting.
View Ted's LinkedIn profile

Anil Gadre, Executive Vice President, Chief Product Officer at MapR Technologies
Anil Gadre is the EVP of Product Management at MapR. Prior to MapR, Anil was the EVP of Product Management at Silver Spring Networks, responsible for product strategy, planning, and marketing of networking and software products focused on the Smart Grid for the energy industry. Before that, Anil was with Sun Microsystems, a Fortune 200 technology leader, serving as EVP of The Application Platform Software organization and had previously been the Chief Marketing Officer leading global branding, demand creation, and an extensive developer ecosystem program. At Sun Microsystems his experience covered diverse product lines ranging from networked desktop and enterprise servers systems to market-leading software products such as the Solaris Operating system, Java, MySQL database and various middleware products. He has a BSEE from Stanford University and an MM degree from the Kellogg School at Northwestern University.
View Anil's LinkedIn profile

Featured Sessions
Unlocking AI Value at Scale: 3 Building Blocks and 1 Massive Mistake to Avoid
Speaker: 
When it comes to transforming businesses - engaging customers, improving products, optimizing services, and managing risk - the focus often moves to AI and analytics. Which AI tool? What algorithm? Who's the Data Scientist? These are important questions but by no means the keys to initial and continuous success. This session will delve into the three building blocks and the one massive mistake to avoid for any organization looking to leverage AI.

Driving Data-Driven Enterprise Transformation Using Kubernetes, Cloud, and Edge
Speaker: Ted Dunning Ph.D., Chief Application Architect, MapR 
A range of new technologies is transforming the landscape of business and technical organizations. This presentation provides practical, real-world value as part of an integrated "Dataware" architecture. The MapR Data Platform makes these technologies more powerful, making the cloud and container journey easier and more agile while naturally integrating the edge. This session is intended to help attendees understand how, when and why for implementing and adopting emerging technologies beyond buzz words by blending real reference architectures and real-world implementations.

Presented by:
Sponsored by:
Silver:
AUTHORIZATION: By registering for this event, you are authorizing MapR to (i) provide contact information including your name, your company's name, address, email address and phone number to MapR, MapR sponsors, the event center and any service vendor contracted to conduct work for the MapR Event, and (ii) contact you about MapR products and services.