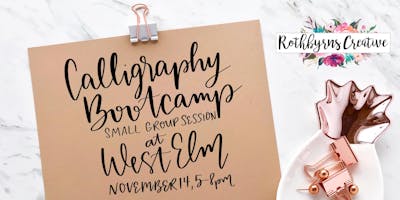 Come learn Modern Calligraphy at this special small group session of the Calligraphy Bootcamp at West Elm! This event is capped at 6 people to give you an intimate learning experience with ample time for questions and personalized feedback.
This one-session modern calligraphy workshop will give you a taste of three different styles! In 3 hours, I will teach you the fundamentals of modern calligraphy, a free-form style that is all about personalizing your writing. In the first part of class, you will be guided through practicing the basic strokes that make up all letters, a calligraphy alphabet, and both faux and brush calligraphy.
In the second part of class, we will introduce dip pen calligraphy and continue honing our skills. 
Each student will receive a kit with a couple of markers, a dip pen with a nib + some ink, and practice paper for you to continue your practice at home. 
This class is for absolute beginners ages 12+, and left-handers are welcome! Feel free to reach out to me at [email protected] with any questions.