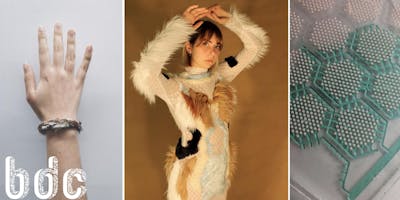 The Biodesign Challenge is shaping a new generation of biotechnologists. We partner students with scientists, artists, and designers to envision, create, and critique the future of biotech. 
Join our audience of 400+ at the Museum of Modern Art and Parsons School of Design for the BDC Summit—an event that brings together finalist teams with leading voices in art, design, and biology. 
Over two days, finalists showcase their projects before esteemed judges from academia, the arts, and industry to compete for prizes, including the coveted Glass Microbe. Teams were chosen from over 500 students from nine countries who worked throughout the academic year to develop their visions. 
You're also invited to join us on the evening of June 20th for our reception celebrating the opening of Life in Reply, a gallery exhibition of the student projects. 
SUMMIT AGENDA 
Summit Day 1 - June 20, 8:30am – 6:00pmParsons School of DesignTishman Auditorium63 5th AvenueNew York, NY 10003
Reception and Exhibition - June 20, 7:00pm – 9:00pmParsons School of Design Making Center 66 5th AvenueNew York, NY 10011
Summit Day 2 - June 21, 8:30am – 6:00pmMuseum of Modern ArtTitus 1 Theater11 West 53rd StreetNew York, NY 10019
PARTICIPATING SCHOOLS
Ball State University
California College of the Arts
California Institute of the Arts
The City College of New York
Columbia University
Delft University of Technology
Emily Carr University of Art + Design
Fashion Institute of Technology 
Grace Church School
Harvard University
Kean University
Keio University
Massachusetts College of Art and Design
McGill Univerisity
National Research University 
The Nest
New Design High School
NYU Tandon School of Engineering
NYU ITP
Parsons School of Design
RMIT University
Rutgers 
Universidad de los Andes
Universidad del Istmo
The University of British Columbia
UC Davis
University of Cincinnati
Michigan University
University of New Mexico
University of Pennsylvania
University of Sydney
University of Technology, Sydney
University of Toledo
Zurich University of the Arts

BDC 2019 Speakers
Paola Antonelli joined The Museum of Modern Art in 1994 and is a Senior Curator in the Department of Architecture & Design, as well as MoMA's founding Director of Research & Development. She has curated numerous shows at MoMA and in other international institutions, lectured worldwide, and has served on several international architecture and design juries. She has taught at the University of California, Los Angeles; the Harvard Graduate School of Design; and the MFA programs of the School of Visual Arts in New York.
The recipient of a Master's degree in Architecture from the Polytechnic of Milan in 1990, Paola Antonelli holds Honorary Doctorate degrees from the Royal College of Art and from Kingston University, London, from the Art Center College of Design, Pasadena, and from Pratt Institute in New York. She earned the "Design Mind" Smithsonian Institution's National Design Award in October 2006, and in 2007, she was named one of the 25 most incisive design visionaries by Time magazine. In 2011, she was inducted in the Art Directors Club Hall of Fame, and in 2015, she received the AIGA Medal.
Natsai Audrey Chieza is a designer and change-maker working at the intersection of creative and biotechnology industries. She is Founder and Director of Faber Futures, a London-based biodesign agency that is catalysing the alignment of DNA-scale engineering with the methods and principles of critical design thinking for the circular economy. In her 2017 TED Talk, Chieza offers a glimpse into the future of a synthetic biology industry primed to transform the creation and circulation of goods and services. Her manifesto lays out how this emerging technology converges with craft and interacts with the contemporary realities of resource scarcity, climate change, and sustainable development.
A background in Architectural Design and Material Futures, Chieza's pioneering design-driven practice with bacteria pigments for sustainable textile finishing has been exhibited at prestigious institutions including at the Pompidou Centre, Vitra Design Museum and the Science Gallery Dublin, and sits in permanent collections including at the Forbes Pigment Collection at Harvard Art Museums, Cambridge MA. She is on the founding and curatorial team of Ginkgo Bioworks' Ginkgo Creative Residency in Boston MA and has taught on biodesign programmes at Bartlett School of Architecture and Central Saint Martins in London. An influential international speaker on the confluence of design, technology and science, Chieza was an honouree of OkayAfrica's 100 Women 2018 for her work in STEM and is named on ICON Magazine's 2019 ICON Design 100 list under High Tech and Innovation.
Karen Hogan is CEO and cofounder of Biorealize, Inc. Karen earned her BS in Environmental Biology at the University of Dayton and PhD in Ecology and Evolutionary Biology from The University of Pennsylvania. Prior to her role as CEO, she taught and developed curriculum in introductory biology, microbiology, and biological design at the University of Pennsylvania. Prior to her work at Biorealize and Penn, Karen served as a researcher in wetland restoration at the University of Dayton, a staff scientist in stream ecology for the Academy of Natural Sciences in Philadelphia, and a research consultant for the Philadelphia Water Department and American Water Works Association.
Jane Pirone is an Associate Professor of Communication Design & Technology and Dean of the School of Design Strategies at Parsons School of Design. Her research focuses on methods of interdisciplinary and collaborative practice through projects that leverage the creative and critical use of new technologies, design, media, strategy and entrepreneurial approaches, while prioritizing advocacy, activism, and social and environmental justice.
Jane has been the founding member of the Datamyne Project (MYNE), the Urban Research Toolkit (URT) and the urbanBIKE initiative. She served as Director of the Communication Design program from 2006 - 2011. Jane was the founder/creative director of Not For Tourists, drummergirl.com, and the award winning design firm, Happy Mazza Media, working with clients such as Nickelodeon, Memorial Sloan-Kettering Cancer Center, IBM, and the Columbia Presbyterian Medical Center.
Antonio Regalado is the senior editor for biomedicine for MIT Technology Review, where he writes about how technology is changing medicine and biomedical research. Before joining MIT Technology Review in July 2011, Antonio lived in São Paulo, Brazil, where he wrote about science, technology, and politics in Latin America for Science and other publications. From 2000 to 2007, he was the science reporter at the Wall Street Journal. Antonio graduated from Yale University and holds a master's degree in journalism. He lives in Boston with his family.
Sarah Richardson is a cofounder of MicroByre, a company that is changing the bioengineering landscape by converting stubborn non-model species into genetically tractable strains within which the techniques from model organisms can be practiced. A computational and molecular biologist, Dr. Richardson specializes in the design of genomes. Dr. Richardson earned her B.S. in Biology at the University of Maryland College Park; with the support of a prestigious DOE Computational Science Graduate Fellowship she earned a Ph.D. in Human Genetics and Molecular Biology from the Johns Hopkins University School of Medicine. As a Distinguished Postdoctoral Fellow of Genomics at the Lawrence Berkeley National Laboratory she worked on massive scale synthetic biology projects and the integration of computational genomics with experimental genomics. In 2015, she was named a SynBio LEAP Fellow, based on her "leadership potential and vision for shaping a future in biotechnology." In 2015 she was also one of five promising young female scientists to receive a postdoctoral fellowship award from L'Oréal USA; she proposed to study CRISPR systems and the domestication of non-model bacteria.

BDC 2019 Panelists

Sedef Uncu Aki, Orta

Aleksandra Gosiewski, AlgiKnit

Debra Guo, Stella McCartney

Ryan Hoover, MICA

Matilda McQuaid, Cooper Hewitt

William Myers, author of Biodesign

Theanne Schiros, FIT

Sarah Spitz, Bateman Group

Orkan Telhan, Biorealize

Jiwon Woo, Hypha Design
BDC 2019 Judges
Christina Agapakis, Ph.D., Creative Director, Ginkgo Bioworks
Julia Buntaine Hoel, Founding Director and Editor-in-Chief, SciArt Center and Magazine
Carrie Cizauskas, DVM, Ph.D., Manager of Publishing and Academic Relations, Zymergen, Inc.
Katayoun Chamany, Chair and Mohn Family Professor of Natural Sciences and Mathematics; Director of the University Labs at The New School
Natsai Audrey Chieza, Founder and Director, Faber Futures
Alison Cutlan, Founder, Cutlan Lab and Studio
Alison Dell, Ph.D., Assistant Professor of Biology, St. Francis College
Michelle Millar Fisher, Louis C. Madeira IV Assistant Curator of European Decorative Arts and Design, Philadelphia Museum of Art
Michael J. Flanagan, Ph.D., Founder and CEO, FlanaGen LLC
Laura Forlano, Associate Professor of Design, The Institute of Design; Affiliated Faculty in the College of Architecture, The Illinois Institute of Technology
Paul Freemont, Co-founder and Co-Director, National UK Innovation and Knowledge Centre for Synthetic Biology
Danya Glabau, Ph.D, Founder of Implosion Labs, LLC
Kirby Gookin, Professor, New York University and The School of Visual Arts
Christine Gould, Founder, Thought For Food (TFF) Foundation
Karen Hogan, CEO and Cofounder, Biorealize, Inc.
Ryan Hoover, Artist, Researcher, and Professor of Digital and Biological Fabrication, Maryland Institute College of Art
Karen Ingram, Creative Director, Designer, and Co-Author, Biobuilder: Synthetic Biology in the Lab
Gillian Jarvis, Director of Design, Twist Bioscience
Nancy J Kelley, President and CEO, Nancy J Kelley + Associates  
Grace Knight, Industrial Designer, Ecovative
David Sun Kong, Ph.D., Synthetic Biologist and Director, MIT Media Lab's Community Biotechnology Initiative
Todd Kuiken, Ph.D., Senior Research Scholar, North Carolina State University
Ani Liu, Lecturer in Architecture, Harvard  University Graduate School of Design
Margaret MacDonald, Ph.D., Freelance Curator, Maryland Institute College of Art
Laura Maher, Program Manager, Siegel Family Endowment
Melissa Marra-Alvarez, Curator of Education and Research, The Museum at FIT
Leslie Mitchell, Postdoctoral Fellow, Jef Boeke Lab at NYU Langone
Elliott Montgomery, Assistant Professor, Strategic Design, Parsons School of Design; Co-Founder of The Extrapolation Factory
William Myers, Curator, Teacher, and Author of Biodesign
Naomi Nakayama, Royal Society University Research Fellow, University of Edinburgh
Ann Neumann, Director of Galleries, MIT Museum
Megan Palmer, Senior Research Scholar, Center for International Security and Cooperation, Stanford University
Hemai Parthasarathy, CSO and Partner, Breakout Ventures
Jeanne Pfordresher, Adjunct Associate of Pratt Institute Industrial Design, Partner Hybrid Product Design
Sukanya Punthambaker, Ph.D., Postdoctoral Fellow, Department of Genetics, Harvard Medical School
Antonio Regalado, Senior Editor, MIT Technology Review
Tarah Rhoda, Manager, SVA Bio Art Laboratory, School of Visual Arts
Sarah Richardson, CEO, MicroByre
Florence Rohart, Senior Designer, Adidas Future
Simone Ross, Cofounder and Chief Program Officer, Techonomy Media
Andrew Scarpelli, Assistant Professor, National Louis University
Theanne Schiros, Ph.D., Assistant Professor of Science and Sustainability, FIT  
Anja Scholze, Ph.D., Program Director for Biology + Design, The Tech Museum of Innovation
Cecilia Takayama, Director of the Materials Innovation Lab, Kering
Orkan Telhan, Ph.D., Co-founder and Chief Design Office, Biorealize, Inc. and Associate Professor of Fine Arts, University of Pennsylvania
Danielle Trofe, Founder, Danielle Trofe Design
Harris Wang, Ph.D., Assistant Professor of Systems Biology, Columbia
Jake Wintermute, Head Teacher and Organizer, syntheticbiology1.com
Jiwon Woo, CEO and Creative Director, hypha design.
Sophie Zaaijer, Ph.D., Runway Startup Postdoc, Cornell Tech  

TRAVEL INFORMATION
Parsons School of Design Tishman Auditorium63 Fifth AvenueNew York, NY 10003 
Nearest Trains:4, 5, 6 - 14 St - Union Square 1, 2, 3 - 14 St - Union Square N, Q, R - 14 St - Union Square L - 14 St - Union Square F, M, L - 14 St / 6 Av
Nearest Parking: Icon, 110 E 16th St(212) 473-90562 Hours: $35
iPark, 17 East 14th Street (212) 691-5786 2 Hours: $35
The Museum of Modern Art (MoMA) The Roy and Niuta Titus Theater 1 11 W 53rd St, New York, NY 10019
Please check in at The Ronald S. and Jo Carole Lauder building entrance (MoMA Film entrance) east of the main entrance on W 53rd St.
Nearest Trains:E, M - 5 Ave/53 St B, D, F, M - 47 - 50 St - Rockefeller CenterN, Q, R - 57 St - 7 AveF - 57 St1 - 50 St
Nearest Parking: 
Quik Park, 77 W 55 St (between 5th and 6th Ave) (212) 581-4025 6 Hours: $25
Cityspire, 150 West 56th Street (Between 6th & 7th) (212) 265-0841 10 Hours: $31.26
Icon Parking, 57-59 W 53rd St (212) 586-0169 6 Hours: $25
Modern Parking, 666 Fifth Avenue (212) 581-1154 6 Hours: $40
University of California, DavisUniversity of CinncinatiUniversity of MichiganUniversity of New MexicoUniversity of Pennsylvania (UPenn)University of Toledo (Ohio)