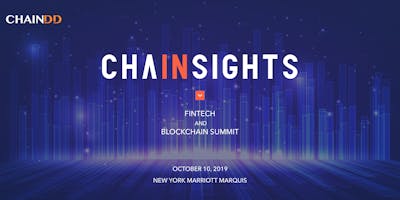 ChainDD® invites you to join CHAINSIGHTS® 2019 Fintech and Blockchain Summit at the New York Marriott Marquis on October 10, 2019. Thought leaders, influencers, and innovators from the field of Fintech and Blockchain will converge at our annual conference to address key progress, issues, opportunities, challenges, and risks facing the Fintech and Blockchain industry from the East and the West. Experts from the regulatory, academic, financial, technology, and media fields will deliver invaluable insights and actionable takeaways that you don't want to miss. More than 20 traditional and tech/blockchain media will come to report our conference and to interview speakers.
The Summit will also feature presentations or panel discussions from more than 30 high-impact speakers or panelists, which include the former SEC Commissioner Roel Campos, the senior partner emeritus at McKinsey & Co. Peter B. Walker, the founder of Edelson Technology Partners and All Star Security Analyst Harry Edelson, the Deputy Executive Secretary of United Nation Capital Development Fund Xavier Michon, the CEO of OpenFinance Juan M. Hernandez and the Chief Compliance Officer at Paxos Dan Burstein etc. We also have many business leaders and investors from China, such as Lihong Wang from Bain Capital Private Equity, Yang Xu from Tiger Brokers, Jun Li from Junhe Media Group, and Mia Huang from Nation Business Daily  to share their insights about the investment opportunities in China. Our attending companies include IBM, Google, Morgan Stanley,  HSBC, Galaxy Digital, Coinfund, Grant Thornton, Ogilvy Group, Baidu,JD etc.
The event will be highly interactive, providing valuable opportunities for networking, idea sharing and potential partnerships with some of the most influential players in the field. The VIP networking reception will provide you with tremendous opportunities to meet your future partners, mentors, and supporters.
Agenda

Media Partners