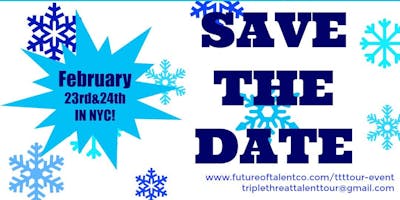 Join Triple Threat Talent Tour in NYC for a Frozen February!
All participants will take class with Frozen Cast/Creative team members! We will watch the Broadway Show that night at 8PM followed by an exclusive talk back with the cast! 
*Price includes: Classes at Ripley Grier Studios, Mezzanine Ticket to Frozen on Broadway and talkback with cast
February 22nd Participants can register for a private agent showcase and business seminar. 
TICKETS ARE LIMITED SO RESERVE YOURS TODAY!!!