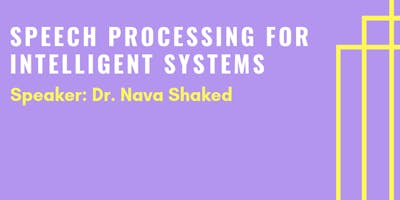 This is event is for NYIT students only. Please RSVP using your NYIT email address.
Date: Friday, 10/11/2019Time: 12:30pm -2:30pm,Location: EGGC 408Refreshments will be served.
Abstract:
A growing area of artificial intelligence is the processing of voice and speech. In recent years it is also an essential component in human machine interface as part of applications, IoT products, wearables and robots. A new field called conversational interaction is growing and requires knowledge of voice-activated software. The seminar offers an understanding of how human speech can be processed by computers. The students will be familiarized with modern tools, research and development and innovative technologies that used in the field of speech and voice intelligent processing nowadays. The areas we introduce are: Speech Recognition, Speech Synthesis, Speech Biometrics, Emotion Detection, Speech Analytics, Language Identification, and Conversational Interaction.
About the speaker:
Dr. Nava Shaked is the head of the Multidisciplinary Department in – HIT Holon Institute of Technology - and an Adjunct professor at the PhD program at CUNY GC, Computational Linguistics Department. She holds a Ph.D. from CUNY GC. Shaked is an expert in Natural Language processing, artificial Intelligence and in Human-Machine interaction, with 20 years' experience both in speech technology research as well as leading major projects in Israel, Europe and the US. Shaked was acting as an advisor for major enterprises specialized in Voice Technologies, leading customer strategy, designing system architecture, providing some Professional Service and heading projects from the client's end. Her book (co-authored by Ute Winter) "Design of Multimodal Mobile Interfaces" was published 2016.