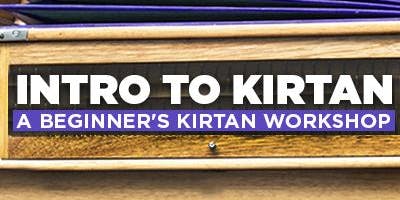 INTRO TO KIRTAN
learning kirtan together
presenter – Kishor Chandra
date – saturday, september 21
time – 3:00 – 5:00 pm
location – the bhakti center / room 3w
admission – $35 
capacity – 10
all students must register and donate online

Intro to Kirtan is a monthly gathering for helping beginners learn about kirtan. It's a small group setting with a relaxed atmosphere. Participants learn to sing and play instruments, as well as lead kirtan, without fear of being on stage or messing up in front of others.
Discussions on the history and meaning of kirtan are integrated throughout. Various styles of kirtan will be covered, always with an emphasis on singing from the heart as a devotional offering.
Intro to Kirtan is also a great way to make new friends and connect with fellow kirtan enthusiasts.