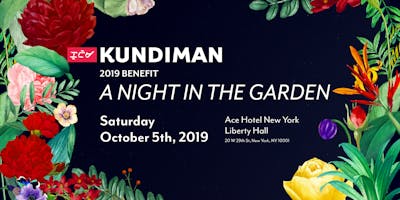 Join us this October 5th at Kundiman's Annual "Night Scene: The Garden" Benefit Gala. This year, we celebrate a community that persists in its growth; a community where, as Meena Alexander writes, the "star flower no one planted / thrives." Come enjoy drinks, hors d'oeuvres, and the company of Kundiman fellows as we honor Meena Alexander, Jin Auh, and Jeffrey Yang for their myriad accomplishments in the Asian American literary landscape.
Honorees:

Meena Alexander is the author of the poetry collections Atmospheric Embroidery (TriQuarterly books, 2018), Birthplace with Buried Stones (TriQuarterly books, 2013), Quickly Changing River (TriQuarterly Books, 2008), Raw Silk (2004), and Illiterate Heart (2002), the winner of a 2002 PEN Open Book Award. Alexander is also the editor of Indian Love Poems (Alfred A. Knopf, 2005), the author of the novels Nampally Road (1991) and Manhattan Music (1997), and The Shock of Arrival: Reflections on Postcolonial Experience (1996), a volume of poems and essays. She was Distinguished Professor of English at Hunter College and the Graduate Center, City University of New York. She passed away on November 21, 2018.
Jin Auh is an agent at The Wylie Agency. She was born in Seoul and lives in Brooklyn.  She serves on the Board of the Asian American Writers' Workshop.
Jeffrey Yang is the author of the three poetry collections Hey, Marfa, Vanishing-Line, and An Aquarium. He is the translator of Bei Dao's autobiography City Gate, Open Up, Nobel Peace Prize Laureate Liu Xiaobo's June Fourth Elegies, Ahmatjan Osman's Uyghurland, the Farthest Exile, and Su Shi's East Slope. He is the editor of the poetry anthologies Birds, Beasts, and Seas and Time of Grief, as well as a volume of Walt Whitman's poetry and prose, The Sea Is a Continual Miracle. He works as an editor for New Directions Publishing and New York Review Books, and lives in Beacon, New York.