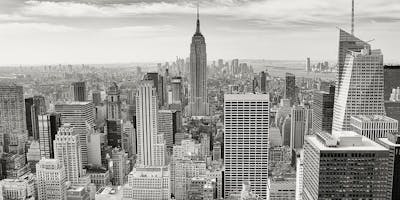 Guest Speaker Presentation by Invitation OnlyNew York RisingKate AscherMetropolitan Executive Alliance meeting: Open meeting for Invited Guests of Alliance Members
Thursday, October 10,  2019 8:00 AM to 10:00 AMHarvard Club, 3rd Floor, West Rooms
New York Rising
What made New York City the urban capital it is today? Over 400 years of history, certain decisions made by government and private actors had a heavy hand in shaping our urban environment – and, indirectly, in framing the debates that continue to punctuate our public discourse about real estate development. Exploring some of these decisions, strategies and players offers a new perspective on our city and provides a foundation for thinking about how and where New York will evolve in the future. 
About Our Speaker
Kate Ascher holds the position of Milstein Professor of Urban Development at Columbia's Graduate School of Architecture, Preservation and Planning, where she teaches real estate, infrastructure and urban planning courses and serves as Interim Director of the real estate program.  She is the author of several books on NYC development, municipal infrastructure, buildings and the delivery of municipal services.  In addition, Kate leads an urban planning practice associated with BuroHappold Engineering and consults on a wide range of complex development and economic development projects. She has previously held positions at the Port Authority of NY and NJ, Price Waterhouse Coopers and the NYC Economic Development Corporation, where she oversaw a variety of multi-jurisdictional planning and implementation efforts involving the transportation, energy, and real estate industries.
Make plans to attend on Thursday, October 10th. This is an open meeting and invited guests of Metropolitan Executive Alliance members are welcome to register and attend.

Registration
To register for this program, simply click on the green register button.
Current Metropolitan Executive Alliance members attend this event for free.
Guests of current Metropolitan Executive Alliance members may register here for free.
Please note that this meeting is by Invitation Only. Attendees who are not guests of current Metropolitan Executive Alliance members will not be admitted attendance to this event. The Allliance reserves the right to decline any registration.
More Information
For more information about this program, please contact Debbie Lindner, Administrative Director, Metropolitan Executive Alliance at [email protected]