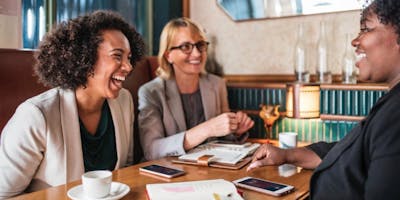 Women in Fund Finance is pleased to hold a  Wit & Wisdom Series meeting in New York connecting senior women in the fund finance industry with junior members for intimate breakfast discussions.
Wit & Wisdom is open to female members of Women in Fund Finance with around two years of experience working in the fund finance industry and are not Managing Directors, Partners or C-suite executives.
Speakers:
Nancy Becker, Director, Asset-Backed Finance, Wells Fargo 
Arina Popova, Legal Counsel, New Mountain Capital
Lucia Martinez, Managing Director, Head of ENR, North America, Standard Chartered Bank
Vicky Du, Executive Director, Head Fund Finance, FSIG, Standard Chartered Bank
Ann Richard Knox, Partner, Mayer Brown
Join us on Thursday, October 10th to explore the topic of Career Negotiations. Our speakers will share their expertise of asking for better pay, promotions, and building relationships with your managers.
Event Details:
Date: Thursday, October 10th, 2019
Time: 8:00am-10:00am
Location: Standard Chartered
1095 Avenue of the Americas, 37th Floor 
(between 41st street and 42nd street, entrance via the courtyard at the back)
Do bring a photo ID to gain access to the building.
This event is limited to our clients and guests only. Places are limited and are not confirmed unless reserved.
This invite/event is for general information only and does not constitute an offer, recommendation or solicitation to enter into any transaction. The invite/event does not take into account the specific investment objectives, financial situation or particular needs of any particular person or class of persons and it has not been prepared for any particular person or class of persons.
Your acceptance of this invitation represents confirmation that your attendance complies with your local laws and internal policies, with the understanding that Standard Chartered will be paying the costs for this specific event, not including transportation, accommodation or any other costs and/or fees outside of the event and event space.
By attending the event you acknowledge and agree to grant Standard Chartered the right to record, film, photograph or capture your likeness and to use and publish the same in print and/or electronically. Standard Chartered may use any such images of you for any lawful purpose, including for publicity, illustration, advertising and Web content
Any personal data collected at this event will be handled in accordance with the Bank's Terms and Conditions and Privacy Statement