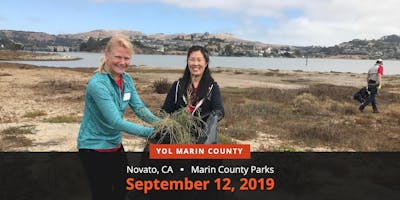 Join YOL for a day of volunteering, connecting, and more at Marin County Parks in Novato, CA on Thursday, September 12, 2019.
Our impactful single-day YOL Showcase experience offers you and your colleagues an opportunity to shed stress, have fun, and give back to an incredible organization. Through YOL's mindfulness-based service program, everyone will learn strategies they can take back to the workplace to increase motivation and enhance performance!
When we welcome you at Stafford Lake Park, we'll give you an immersive introduction to Mindful Service™, YOL's approach to hands-on, socially responsible volunteer engagement, then dive right into a project. During this service experience, you'll have a chance to practice new self-regulation and self-compassion skills, build team cohesion, and challenge yourself to engage in a new level of mindfulness in action.
We'll break for a delicious, organic lunch and connect with MCP's Kirk Schroederto learn more about MCP's mission and impact in the community. Dr. Zanette Johnson will deliver a short learning session on the Neuroscience of Stress to show you how to overcome the 7 Cs and show up as your full self at work. You'll identify strategies to increase trust in your team—the secret to great leadership.
In the afternoon we'll engage in a nourishing mind-body practice, then close the day with a seriously inspirational connection exercise to deepen trust, strengthen compassion, and fortify teamwork. 
Our methods are tried and true. YOL participants consistently report that they feel more able to create positive change in themselves, in the world, and in the workplace. You'll head home with a taste of this potential and a new set of strategies for staying responsive and refreshed—strategies you can practice at home and with your team when you need to move from stressed to personal best.
Don't miss this transformative experience! The $98 per-person cost includes lunch and a donation to Marin Couny Parks. Want to come with friends or coworkers? Register three of your people and the fourth person attends for free!
 
About Marin County Parks
Marin County Parks (MCP)offers for public use and enjoyment an extensive system of regional and community parks, open space preserves, and trails. MCP maintains 21 parks and 34 open space preserves throughout Marin County for hundreds of human visitors and endangered species to co-exist outdoors each year. Learn more at marincountyparks.org/depts/pk.
 
Direct Service Project
Restore the local habitat at Stafford Lake Park and improve park facilities in need of repair
 
Location
Stafford Lake Park, 3549 Novato Blvd., Novato, CA 94947
 
Schedule
8:45 AM
Arrive
9:00 AM
Welcome Circle 
9:30 AM
Somatic Skills Practice 
10:00 AM
            Intro to Mindful Service 
10:30 AM
            Direct Service: Habitat restoration and park facilities improvement
12:30 PM
Lunch and Conversation with MCP's Kirk Schroeder 
1:30 PM
            Learning Session: Neuroscience of Stress 
2:15 PM
            Mindfulness Hike  
3:00 PM
            Connection Exercise  
3:30 PM
            Dynamic Discussion and Closing  
4:00 PM
Depart
 
ABOUT YOLYOL delivers transformative experiences for professionals and teams that combine wellness and mindfulness-based service engagement as a foundation for leadership development. Drawing on evidence-based science, our programs are designed to elevate compassion, performance and productivity. Companies work with YOL to successfully accelerate the development of high potential talent, align diverse teams for success and prepare the next generation of women in leadership, among other use cases.  Learn more at yoltrips.com.
 
Facilitators
 
Jackie Richards, Director of Service Engagement 

YOL co-founder Jackie Richards leads program planning and service engagement. She is passionate about people and service and has worked with local and international communities for over a decade. She is also a Licensed Somatic Psychotherapist and yoga teacher. 
 
Zanette Johnson, Director of Learning 
Zanette is a facilitator, change leader, neuroscientist, and mindfulness practitioner who earned her PhD at Stanford in learning science and technology design. She helps companies and teams build adaptive expertise and use their intrinsic resources to solve unexpected problems gracefully and effectively.