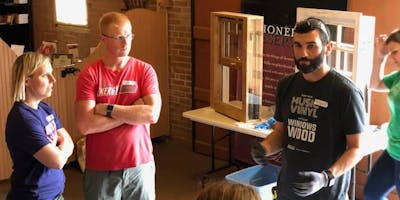 Wood Window Rescue (WWR) will be holding a workshop for the locals of Norman on June 1st, 2019. This workshop will be to educate attendees on the following topics:
1) Why This Matters + Window Basics will be the first things we plan on covering. These will go into depth on why preservation is so important and how we can make an impact when we save what is pre-existing. We also will be covering general information on windows such as names of certain parts and how they function.
2) Lead Safety will be covering why it is so crucial for the attendees to wear the proper gear and follow procedure when it comes to handling lead base items. Mainly focusing on lead based paint.
3) Scraping Paint Removal will be covering tactics on how one can go about removing pesky paint from their windows with ease.
4) Weather Stripping will explain what weather stripping is and the best approach to take on adding it to a window.
5) We plan on having a lunch on site with is part of where the payment from POK will help tremendously.
6) Glass & Glazing will be a hand on activity that will teach attendees how to apply glaze and maintain glass for their windows at home.
7) Epoxy Repairs will cover how one uses epoxy to repair windows. Another hand on activity.
8) Q&A + Closing will recap and give attendees an opportunity to ask upon things they would like to know.