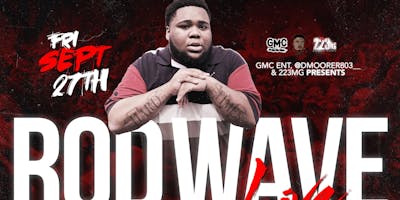 CLICK WHERE IT SAYS PAYPAL CHECKOUT IN ORDER TO PAY WITH YOUR DEBIT OR CREDIT CARD (YOU DON'T HAVE TO PAY WITH PAYPAL)
ROD WAVE WILL BE PERFORMING LIVE AT EXQUIS LOCATED AT 5101 ASHLEY PHOSPHATE ROAD IN NORTH CHARLESTON, SC ON SEPTEMBER 27TH!!! SECURITY WILL BE STRICTLY ENFORCED!!! 
ALSO PERFORMING WILL BE JEFE BANK, LAYLOW, POPABAND, & LIL BLOCK, SALIS MAC, & DOLO SLICK!!!!
FOR A CHANCE TO WIN FREE TICKETS TO THIS EVENT, FOLLOW GMC_ENT_LLC ON INSTAGRAM!!! TO BUY BOOTHS OR TICKETS YOU CAN ALSO CALL 843-730-2027!!