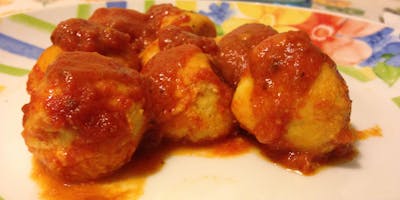 In this class we will be featuring two dishes from the region of Calabria!  
First we will start by making the dish called Polpette di Ricotta, also known as "poor mans meatballs".  Using the highest quality ingredients, you wont believe the taste. Next, Rigatoni alla Pastora also known as "Shepard's Rigatoni" will be prepared using homemade sausage from Vince's along with Italian pasta, the finest cheeses and freshest herbs.  
When the class is over, a family style meal awaits you with your creations plus an antipasto and dessert from Vince's.  You'll experience how simple recipes and quality ingredients make ALL the difference.
Class price is per person.
FEATURES
Our cooking classes include demonstrations as well as hands-on learning. Our instructors will walk you through the steps in making the featured dish and answer any questions you may have. Some key features of each cooking class include the following:
- Printed recipes for each dish prepared to take home
- The dish to bring home and prepare later
- A 10% discount applicable to merchandise in our store
- Customers may bring their own alcoholic beverages to class, water is provided 
- Meal classes will conclude in a family-style dinner and dessert
 - We do not provide wine with classes unless it is part of a recipe, but we do encourage you to bring your own
NOTES
Classes are typically limited to 12 people, but we can accommodate more depending on the type of class. To book a class with more than 12 guests, please call us. To view current and available cooking classes, please visit our website and browse our 'Cooking Class' area. To sign up for a class, you may sign up online following the links on our website or you can call our store. If you wish to register using a Vince's gift card, please call to sign up. Reservations for a group or individual are held with payment. We can take a credit card over the phone or customers may come into the store to pay with cash or check. Any children aged 10 to 15 yrs. must be accompanied by an adult also enrolled in the class. If you plan to shop before the class, we recommend you arrive an hour before. Cancellations must be made prior to the close of business 2 week before the class to avoid a cancellation fee.
PRIVATE COOKING CLASSES
If the listed classes online do not have enough open seats for your group or the dates do not work with your schedule, contact Donna or Sam about booking a private cooking class. Private classes will be planned with our instructors.
CLASS CANCELLATION POLICY
Reservations in our cooking classes are much like theater or sporting event tickets, please consider our classes that way.
You may reschedule or cancel as long as you notify us at least 14 days prior to your class. If you signed up for a class using our website, request a refund via the link provided in your email. If you signed up in person contact Donna at [email protected]  to request a refund.
There are no credits or refunds for less than 14 days notice. We encourage you to send someone in your place should you be unable to attend class. If you sign up for a class and do not show up for any reason the entire class fee is non-refundable, and no future credit will be given.
We will not cancel a class for weather, however If there is a "State of Emergency", Vince's will notify you of alternatives.