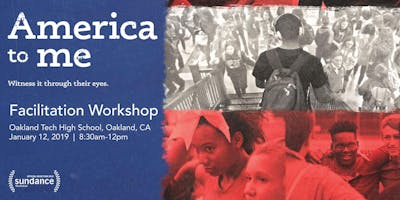 Please join us for a free America to Me Workshop. This training is for students, activists, mobilizers and everyday residents who want to find a way to use their power for good.
Lead A Watch Group on Race, Identity & Education
Reflecting on Langston Hughes's prophetic poem, "Let America Be America Again," the STARZ series America to Me looks at the complexities of race, identity, privilege, and education through the eyes of a diverse group of young people.
This training will help you use America to Me as a catalyst for group discussions about race, racism, and racial equity in America today. Watch groups can be any configuration of community members, students, teachers, organizations, neighborhoods... any group of people who will commit to watch the series and engage in dialogue together, and look for ways to take action on issues of race, equity, and education.
This introduction to equitable facilitation practices led by the National Equity Project will support you to host meaningful and productive conversations around the America to Me series in your own context. Participants will also receive access to a free 10-week subscription to STARZ to watch the series.
Learn more about the series here.
Learn more about becoming a watch group leader here.
Contact Sara at [email protected] with questions.
Please share this opportunity with others in your network! Students are highly encouraged to participate.