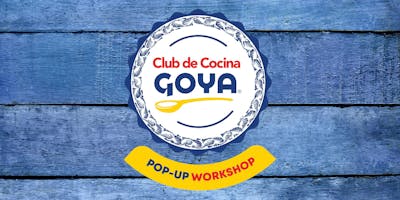 You're invited to register for the Goya Club de Cocina Pop-Up Workshop to be held at the Hispanic Lifestyle Women's Business & Wellness Conference on November 13, at 11:15 a.m., at the Ontario Airport Hotel and Conference Center.  Special guest Chef Cindy will present tasty recipes for fall and the coming holidays. The first 35 to sign up via Eventbrite will receive reserved workshop seating and free admission to the conference. Only those pre-registered via Eventbrite will receive free Goya Club membership, membership card, samples, and a re-usable shopping tote. 
Goya Foods California presents new Pop-Up Workshops for 2019. Working in collaboration with community partners the workshops will be presented at selected special events in Southern California. 
The Pop-Up Workshops are a fun experience sharing new recipes, cooking tips, and new products to real life chefs (home cooks), foodies and food enthusiasts interested in fresh cooking ideas. Secrets for using healthier ingredients and new twists on traditional recipes will offer participants something new to try in their kitchens. By registering for the Goya Club, you'll get free membership, a membership card, recipes, samples, and a re-usable shopping tote. The Goya Club is an initiative that furthers Goya's commitment to healthy communities.
Please note, if you are not among the first to register and qualify for the free admittance, then tickets for the conference must be purchased from the conference organizer.