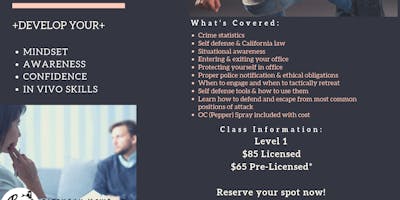 Event name: Self Defense for Clinical Therapists: Level 1 Training + Certification
Location: S.A.G.E. Holistic Health & Wellness Center – 1914 W. Orangewood Ave., Ste. 102, Orange, CA 92868
Description of the event: This 4-hour course is designed specifically for Clinical Therapists and covers imperative personal safety information and tools to develop mindset, awareness, confidence and effective skills to protect yourself in various situations.
Course instructor, Joseph Celis, MS, CSCS, is former law enforcement and has over 25 years experience in self defense, martial arts, and in teaching practical skills for personal safety. Joseph utilizes his knowledge and experience with an effective teaching method and approach that reaches all through his calm and helpful demeanor where no question is left unanswered and you leave class feeling as though you have an ally on your side for good.
During class, practical knowledge will be learned in an educational setting, then applied during the tactical and experiential portion of class. Class will convene with each participant having solid knowledge about these concepts:
• Crime Statistics • Self Defense & California Law • Situational Awareness • Entering & Exiting your office and How to Protect Yourself • Proper Police Notification + Ethical Obligation • When to Engage and When to Tactically Retreat • Self Defense Tools & How to Properly Use Them (OC Spray, Taser, Tactical Pen, etc) • Know how to Defend or Escape from the most Commonly Used Positions of Attack
*Course tuition includes an OC Spray (Self Defense Tool)
It is never too late to increase your ability to feel empowered in possible situations that could otherwise prove dangerous.
TAKE ACTION & RESERVE YOUR SPOT TODAY! 
*Minimum of 4 participants required for class to be held
 
Date: Saturday, November 9th, 2019
Time: 8:00am-12:00pm
Instructor: Joseph Celis, MS, CSCS
Level: 1
Cost: $85 *Includes OC (pepper) spray - $65 for Pre-Licensed Therapists (email [email protected] for link to pay discounted amount)
 
Directions/Special instructions: *PARKING: Our center is located in the city of Orange right off the 57 freeway at Orangewood Ave. Our cross streets are Orangewood and Eckhoff. Find us easiest by parking in the lot nearest the large numbers on the building "1914". Walk into the complex and our center is immediately on your left. You will see the company name and logo through the window. How to participate?
Like our page
Read event details
Make sure this is an event that you would like to attend
Click the link to pay & reserve your spot https://sagewellnessctr.org/sign-up-for-events
DISCLAIMER: S.A.G.E Holistic Health and Wellness Center, associates, coordinators, volunteers, employees, and any other affiliates do not take responsibility for any harm, bodily injury, accidents, or damage to personal property. By "Booking" your spot or by "RSVP"ing or attending the hike, you are confirming that you understand that all activities such as yoga, meditation, Martial Arts, Self Defense, hiking, and Reiki have an associated risk, and will not hold any S.A.G.E Holistic Health and Wellness Center, associates, coordinators, volunteers, employees, and any other affiliates responsible for any hazard to your well-being. Additionally, you will not be allowed to participate with the group if you are not adequately prepared with enough water, the right gear, equipment, and/or nutrition essential to complete the event.
PHOTO/VIDEO CONSENT WAIVER:
By Attending our event you grant permission to S.A.G.E Holistic Health and Wellness Center to use photographs and/ or video taken of you during this event for use in publications, website, and other forms of media without notifying you. You hereby waive any right to inspect or approve the finished photographs or printed electronic matter that may be used in conjunction with them now or in the future, whether that use is known to you or unknown, and you waive any right to royalties or other compensation arising from or related to the use of the photograph(s) and/ or video.