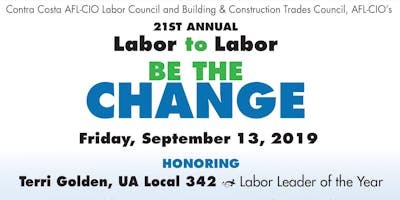 Labor to Labor gives us a unique opportunity to celebrate our work and look forward to the upcoming elections and beyond.  This year we will celebrate our work over the past year at the beautiful shoreline of San Pablo Dam Reservoir's Boat Launch.  Join us and renew your commitment to Be The Change!  
This year we will pay tribute to the visionary leadership, activism, and commitment to the labor movement of this year's honorees: 
Terri Golden, Plumbers & Steamfitters UA Local 342 LABOR LEADER OF THE YEAR To be Announced FRANCES PERKINS AWARD 
HenkelCORPORATE LEADER AWARD
This annual event is the place to be - when we can Be The Change!