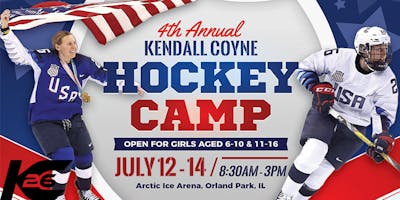 This ticket is for registration and payment to the 2019 Kendall Coyne Hockey Camp at Arctic Ice Arena (10700 160th St, Orland Park, IL 60467) on July 12-14, 2019. Players must be female between the ages of 6-16. There will be two groups. Group 1 - Ages 6-10 Group 2 - Ages 11-16
Sibling discounts - $25 off for each additional sibling. Discount will be credited back to your credit card. Please register each child separately.
For more information please visit kendallcoyne.com
Please make sure all players bring their own lunch and/or money for the concession stand and a water bottle with their name on it.
7:30-8:30am - Check-In 
9:00-10:00am - Group 1(on-ice) - Group 2 (off-ice)
10:10-11:10am - Group 2 (on-ice)  - Group 1 (off-ice)
11:30-12:00pm - Lunch (both groups)
12:10-1:10pm - Group 1 (on-ice) - Group 2 (off-ice) 
1:20-2:20pm - Group 2 (on-ice) - Group 1 (off-ice) 

Email [email protected] with any questions