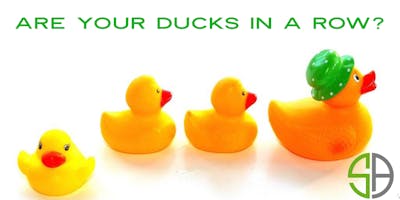 Do you have your ducks in a row concerning your estate plan?  Have you thought about having your Will done or creating a trust but don't know where to begin? 
If you answered "Yes" to one or both of those questions, you're in luck.  Seck & Associates is hosting a FREE event  to break down the basics of estate planning and break the ice when it comes to talking about it.  
At this event you will learn: 

WHAT estate planning is,

WHY estate planning is important both during your lifetime, as well as upon death,

HOW estate planning can work for you and your family,

The main documents included in a comprehensive estate plan and

How completing your estate plan can help avoid certain taxes and other expenses.

Please join us on Tuesday, October 22, 2019, at 4:00 p.m. for networking, with a brief presentation starting at 4:30. Light refreshments will be provided.  Click on "Register" to RSVP.
We look forward to seeing you!