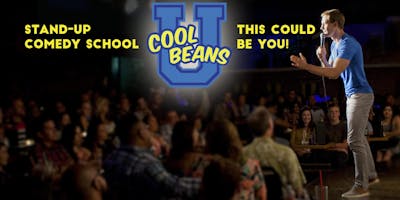 Learn how to make your life experiences the subject of a "killer" stand-up set! Work each and every week onstage with individualized attention and observation!
All ages and skill levels welcome! With a combined 25+ years of experience, learn the secrets of stand-up and gain the confidence to perform your "killer" set from Cool Beans Comedy producer Corey Craig and co-host Matthew Moore. 
Five weeks of training includes a professional comic Q & A, a Business of Comedy overview, and your five-class intensive concludes with YOU performing in a real, professionally produced stand-up comedy show at the world famous Ice House Comedy Club!
Your Teachers: Corey Craig founded Cool Beans Comedy in 2009, and is a producer, director, comic and show-host. Matthew Moore is the other co-host of Cool Beans Comedy, and an experienced stand-up and improv instructor. 
Register Today! Limited class size. 
Sundays starting May 19 from 2:00-4:30 PM (May 19, *OFF 26*, June 2, 9, 16, 23). PLUS a Grad Show in June!For additional information, contact the Registration Office at:
[email protected] or (626) 344-9519