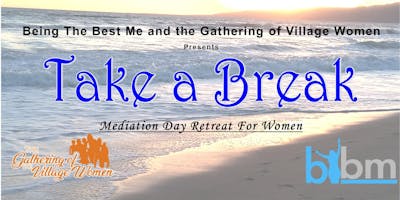 Come immerse yourself and activate healing of your mind, soul, and spirit. Regain your power by (re) discovering the best you. Gain a deep sense of belonging through sharing life experiences in a community of women. Get away for a window in time and Take A Break from everyday life to feel bliss as you relax, renew, and rediscover. Experience new ways to manage stress, heal through the arts, and step into your power. Breakthrough To The True You. You don't want to miss this!
Registration 9:00 a.m.—9:30 a.m. Retreat begins promptly at 9:30 a.m.
To honor everyones experience PLEASE be on time.
For other payment option you can use Cash App - BTBMNOW
$50 Includes: Light Breakfast Refreshments, Lunch, Light Afternoon Refreshments, Mindfulness Healing Art Supplies, Gifts, and a Sound Bath with Anahata Mousai at vibewithmyheart.com
(If you need more information about what is a Sound Bath please visit their website at www.vibewithmyheart.com) 
Other Notes: You are welcome to bring what makes you feel comfortable like mat, blanket, comforter, or pillows for the sound bath but all that is needed will be provided. Dress comfortably. The envoriment will be relaxing because this is a moment in time just for you.