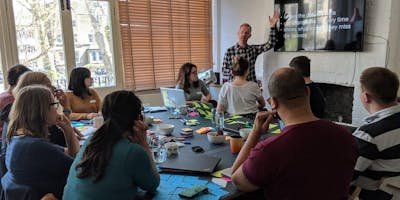 This CPD-certified course is for people who have some experience in writing for the web but would like a complete grounding in producing user-centred, evidence-based content. For an explanation about content design, please see Sarah Richards' content design vs editorial blog post. 
By the end of this 2-day course you will:
be able to write in a way that works with how humans read - the most efficient way of getting your message across
know how to find and use the vocabulary your audience uses 
have different methods of creating very targeted, user-focused content
be up to date with the latest research on digital user-behaviour
know how to have tricky conversations with data (perfect for getting sign-off)
have techniques to work collaboratively with others
 Day one
Why call it content design - difference in formats, difference in skills
Content discovery: what it is and how to use it to make informed, user-centred content decisions
Find your audience's vocabulary and mental models
User journey mapping
User needs: writing user stories and job stories - the difference between them and which to use
Structuring your page
Day two
Reading psychology
Peer review and pair writing - why do it and how it can stop arguments with lawyers/marketing/people with sign-off 
Content crits: why have one and we'll run one
Define success - what are you actually measuring and why? Where to get meaningful metrics that can help you make content decisions
Conversations with stakeholders using data
Dealing with legal.
For more details on content design, visit our blog at http://contentdesign.london/blog/
Persis Howe and Andrew Lamb will be delivering this course.
Persis is the Senior Content Strategist with Digital Services, City and County of San Francisco. In that role, she's worked on permitting cannabis business and launched SF.gov, the City's cross-department user-focused website. Previously, Persis ran the Cross Government Content Community in the UK, managing training, support and conferences for content people across the federal government. Building and growing the content community of practice came out of her work moving government departments into GOV.UK.
Andrew has worked around the world helping businesses understand their audience, what they need online, what they actually experience and how to bridge the gap profitably. He's also the reason Sarah entered the world of user-centred design. Meet the inspiration that led to content design.
Testimonials for this course in the UK from previous participants:
"Sarah is one of the best in the business. She truly believes we can improve lives with good web services, and her passion is infectious. You can't leave her sessions and not feel like you can and must change the way things work. She's certainly inspired me!"Persis Howe, Content Community Manager, Government Digital Service
"Content Design London are the absolute experts in the content and strategy industry that feels quite lonely at times. Absolutely worth travelling 8.7k km for – hello from San Francisco and thank you!"Katie Towne
"It has been a great two days and really helped me to understand the CD process better, after pretty much teaching myself what I knew so far. Activities were well-timed and kept the pace going. Great to be able to work on your own content. Has helped me gain direction in content I have been trying to write (literally) for years!"Helen Hill, Hippo Digital