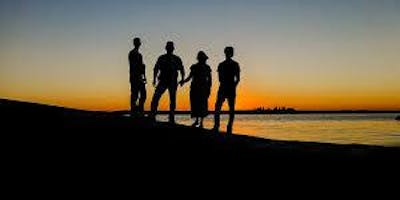 End-of-Life Doula Class for Family Members
A small group opportunity to grow your end-of-life skill-set. Welcoming you wherever you are in the process.
 
If you answer yes to any of these questions, you'll benefit from this class.
Has a loved one's recent shift in medical health caused you to start to question how to provide support?
Are you seeking an understanding of how to support a young child, as a loved one faces their end of life?
Is the transition from "fighting" a disease to acknowledging that there are no more treatment options leaving you breathless, lost, and too overwhelmed to engage?
Do you want to support your loved one in a way that is true to their values, that honors them and you in this journey?
 
About this Class
This deeply personal dive into the areas you most want to strengthen, taught by professional End-of-Life Doulas, will deepen your understanding and skills around end-of-life support. It will ignite your emotional ability to be present, engaged, and supportive to your ailing loved one.
The word 'doula' originated in ancient Greece to describe a woman who serves. Commonly, birth doulas guide mothers and families through the labor of birth. Just as birthing is a labor, so is dying. They both involve work. We are inviting you to come learn how to do this work, and support your loved one's upcoming labor in dying.
As certified End-of-Life Doulas, our personal and professional experience lends insight and meaning into the last season of life.
This class will allow you to infuse deeper meaning and focus into your loved ones' experience.
We will review options (and documents), and discover perspective.
 
Class flow will include:
1. Trust building within the group. Introductions and brief outlines of the challenges you are facing.
2. Gathering of questions, immediate needs.
3. Outline of documents to be prepared.
4. Conversation regarding word usage and its impact. Finding ways to shift your thinking.
5. How children can be included in the journey.
6. Value of life review and story-telling.
7. Value of doing Legacy work.
8. What is guided imagery/special place visualization and how does it help with pain management?
9. Example of the power of a Vigil Plan through visualization exercise.
 
You will leave with an understanding of:
-which end-of-life documents to consider.
-how to hold space for your dying loved one.
-how to include children.
-the beginning steps to move toward Legacy Project creation.
-an understanding of the role of a Vigil Plan.
-how to let values guide the process.
 
Suggested Reading: "Caring for the Dying" by Henry Fersko-Weiss
 
Tickets are required. Please call with any questions. 503-395-7305
 
 
www.eveningstar-eol-doula.com
Evening Star End-of-Life Doula Services, LLC is the preeminent partnership provider of EOL Doula support in the greater Portland area. Our scope-of-practice starts with understanding end-of-life paperwork and practical preparation. We then move through understanding and creating space for emotional movement and a sense of control as the stages of a terminal diagnosis progress. Finally we move into vigil support during the active dying process and follow-up 4-6 weeks after the death.  We are your consistent end-of-life coaches and support team as you navigate your way through the end-of-life medical system.