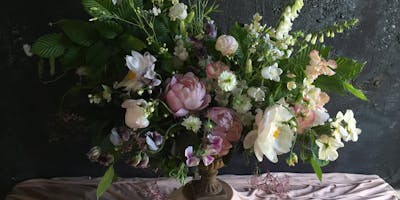 Come learn about garden inspired floral design with special guest Kailla Platt of Kailla Platt Flowers. She first expressed this passion professionally through garden design.  After receiving degrees in fine art and landscape architecture, she designed gardens for ten years; all the while keeping a hand in growing and arranging flowers. She has worked with Max Gill, Nicolette Camille, Erin Benzakein and Amy Merrick.
"Kailla Platt Flowers is my opportunity to express and share the way I see flowers -- with a gardener's heart and an artist's eye. I am interested in expressing what is most essential and vital about each season.  My designs use the most lush and vibrant blooms available, sourced from local farms, gardens and growers. "
In this workshop we will be working with florals that are influenced both by garden design principles and by using flowers and botanicals directly from the garden. We will talk about plants and flowers you can grow that will add detail, dimension, texture and movement to your arrangements, as well as using plants you probably already grow. Working seasonally, we will celebrate what is most beautiful about early May – which is a fantastic time of year for flowers and gardens!