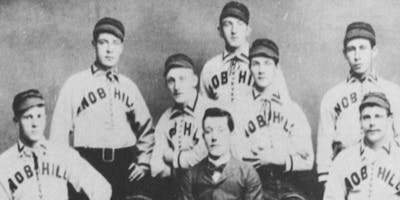 Join us on a walk from a residential street rich with charater looping back along NW 23rd, focusing on the transformation from an elite residential neighborhood to a trendy retail and upscale dining district.  Tours meet most Thursdays mornings and Saturdays and advanced booking required.  This tour complements our Slabtown Walking Tour that delves into working class and cultural history of the adjacent community.  Highlights of the Nob Hill tour include: the tale of the notrorious Nina Churchaman Larowe, the site of one of the largest alcohol raids in Portland history, the Captain Joseph A. Sladen House, and a odd alterations of domestic dwellings that was the catalyst for the Alphabet Historic District. Guests are entertained with a number of preservation tales by our guide, an expert on historic preservation with a PhD in Urban Studies.
FAQs
What do you do if there is ice or snow?
It is not safe for us to operate tours on slippery streets. We will refund your tour costs.
What do you do if it is 100 degrees?
If there is a heat advisory (a period of hot temperature expected by the local/national weather service), this can create a situation where heat illnesses are possible and it is recommended to stay out of the sun. Slabtown Tours LLC will try to reschedule the tour for earlier in the day on the same Thursday or Saturday.
What do I do if I can't make it to the scheduled tour?
There are no refunds for no-shows, but if you cancel 24 hours before the start of the tour, you can reschedule for another date. If you need to cancel, call 503.206.4676 or e-mail: [email protected] If you are running late for a tour, text 971.302.3926.
What are my transport/parking options getting to the event?
Parking meters arrive in 2016 along major commecil street, but thus far there are still many areas to park for free. Most tour starting points are walkable from the Stadium MAX Station stop or other MAX or Portland Streetcar stops. Timbers and Thorns game days are typically not ideal days for tours. We suspend tours on dates with heavy parking needs.
Where can I contact the organizer with any questions?
Landline for Slabtown Tours LLC: 503.206.4676Text if you are late for a tour: 971.302.3926email: [email protected]gmail.com
Donation requests please send to Slabtown Tours LLC PO Box 83253 Portland, OR 97283-0253
Can I bring my dog on the tour?
Yes well-behaved dogs can join our standard tours on leash. We do not enter any buildings on our regular tours.
I heard there is a waiver could you share the text with me?
Yes. You can view the waiver here:
 PARTICIPANT AGREEMENT & LIABILITY WAIVER & EXPLANATION OF INTELLECTUAL PROPERTY RIGHTS 

In consideration for being allowed to participate in the walking tour "Slabtown Tours LLC", I agree as follows: 1. That I understand that there are no refunds for the tour.2. That I will fully cooperate with the tour leader and any building or business owner, employee, etc., whose establishment we visit;3. That the tour will be conducted on public streets and that I will not block sidewalks or impede the flow of pedestrian traffic;4. That I do not have any physical, mental, or emotional disability or illness that would cause me any difficulties or harm as a participant on the walking tour;5. That for the protection of intellectual property rights, I understand I cannot use and audio or visual recording devices without advance written permission from Tanya Lyn March and Slabtown Tours LLC;6. That I will not use the information, photographs, videos, film, digital images, or audio recordings which I obtain as a result of participating on this walking tour to write any books, magazine or newspaper articles, plays, video or film scripts, CDs, CD ROMs, DVDs, games, audio tapes, web sites, etc., including assist any other entity in these activities, without prior written permission from Tanya Lyn March; [PLEASE NOTE: This covers all intellectual property rights!]7. I understand there are known and unknown dangers which will be encountered on this tour, and I hereby waive any claims for liability that I have, or may in the future have, against "Slabtown Tours LLC., and/or Tanya Lyn March, or any businesses, their owner(s) and employees, and hereby release those parties from any claims which I have or may in the future have as a result of this tour for any harm or injuries that I may sustain, specifically including any harm or injuries that I may sustain as a result of the negligence of any of the above parties.