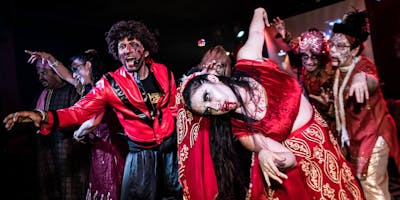 AS SEEN ON KATU2 TV>> bit.ly/thriller_katu_tv
Have you ever wanted to learn what is, obviously, the greatest dance routine of all time? How about with a flair of Bollywood?
This Halloween, come learn & perform in...
THE BOLLYWOOD THRILLER
Bollywood Thriller is a fusion choreography & a killer Jai Ho! Dance Party hosted by DJ Prashant. Students will learn this fun & energetic choreography in a 2-hour workshop & will then have the opportunity to perform it at various venues in Portland & Seattle. 
You will leave the workshop having learned the full choreography & receive a link to step-by-step practice videos. 
DANCE WORKSHOP DETAILS: 
Wednesday, October 23, 7:30 pm to 9:30 pm
Nia Studio, Portland, OR
address: 4th floor, 918 SW Yamhill St #401, Portland, OR 97205
PERFORMANCE OPPORTUNITIES: 

Friday, Oct 25, midnight @ Seattle: Bollywood Thriller Dance Party
Saturday, Oct 27, 3 pm @ Thrill The World PDX in Portland
Saturday, Oct 27, midnight @ PDX: Bollywood Thriller Dance Party
Wednesday, Oct 31, 7pm @ Halloween at Davis Graveyard in Portland

All performances are optional. 
Bollywood Thriller pop-up performance from 2016: https://youtu.be/VED5Utxo4_4CONCEPT: 
Imagine an Indian wedding gone awry as the joyful celebration takes a turn for the worst with a blast that transforms all attendees into zombies, smack in the middle of the rituals! This is the dropback on which choreographer & DJ Prashant set the Bollywood Thriller dance with help from Jai Ho! Dance Troupe lead Brittany Newton. What started in 2011 as a performance to a musical mashup of a Bollywood wedding song & Michael Jackson's Thriller has transformed into a sub-culture over the years.
________________________How do I sign up?You can just drop-in for the class, or sign up in advance here: How much does it cost?To make this 2-hour fusion workshop accessible, we are offering it by donation (suggested sliding scale $5-20). You can sign up in advance via Eventbrite, you can also use class-card from DJ Prashant or pay by cash in class. 

If you plan to drop-in, we request payment in cash to expedite the check-in process.What to wear & bring? Dress in comfortable clothes that you might wear to work out or for a yoga class, we will be sweating a lot so make sure to stay hydrated before, during, & after class. We have a water fountain, so feel free to bring your own bottle!To get a head start on the choreography, check out our step-by-step video: http://youtu.be/df0WHSVfHGY?list=PLaJhZylGHrj9uOSFJDv_AYTGvtEbyhKNl
DANCE PARTY DETAILS: 
Bollywood Thriller is the most spooktacular Halloween costume party ever, complete with a costume contest & dance lesson!