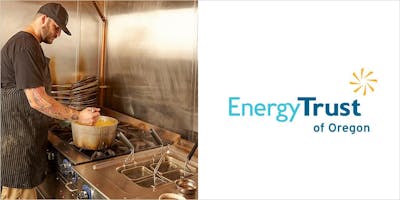 Join Energy Trust of Oregon for an interactive event designed to support local restaurant owners and operators, with a complimentary lunch provided. Engage in a panel discussion with local restaurant operators and foodservice industry experts, gain insight and tips during info-filled sessions focused on helpful topics and connect with resources that can help you succeed.

Restaurants are a tough business. Our panelists will share perspectives on how to learn, adapt and grow in a changing food service economy. 

Our panel includes: 

Micah Camden of Super Deluxe, Blue Star Donuts and more
Ken Henson of Pelican Brewing
Karen Malody of Culinary Options, moderator
Robin Yang of Ascent Funding
And more


Restaurant talk workshops: 

Equipment selection and ROI
Menu drives everything
What is your brand saying about you?


We hope you can join us for an afternoon of networking and learning how making energy-efficient upgrades with Energy Trust can help you save energy and money.

Event details:

Doors open and food served at 2:00 PM
Program starts at 2:30 PM


Space is limited. Register today!
 


Questions? Email Angel Swanson, trade ally coordinator, Existing Buildings, [email protected] or call 503.278.9440.