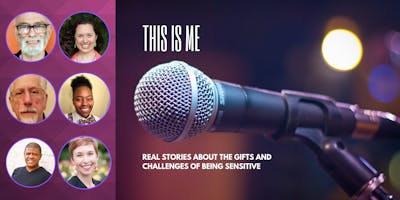 In this debut storytelling event, join six local storytellers who at some point along their life journey realized that they were more thin-skinned and sensitive than those around them. In other words, they found themselves to be greatly impacted by their environments and the energy of the people in their lives.
Both humorous and full of struggle and hope, these stories are a doorway to conversations about how to honor our own tenderness or the more sensitive nature of those in our lives.
Whether you are someone with a high degree of sensitivity or are a parent, caregiver, teacher, or employer who is supporting people with sensitivities, there is a story here for you.
In a culture that prefers tough-skinned living, can we choose to express the strengths and gifts of our sensitivities? And what can this unlock for all of us?
Come listen to these stories for inspiration and resources for keeping your big heart open.
Volunteers & Scholarships
If you are interested in volunteering for this event in exchange for admission or would like to request a scholarship, please email [email protected]com.
A note from the event host:
This event marks the 1-year launch of my coaching practice, Leah K Walsh Coaching. In my practice, I am so blessed to support a wide array of sensitive humans so that they can thrive in ways that honor their true nature. It has been quite a journey this first year. For several months now, I've been dreaming of a way I could call together a community around these conversations I love so much and craved having ever since I was a child. This event is the culmination of these dreams.
If you'd like to learn more what makes someone highly sensitive, here is a self-assessment.
If you'd like to learn more about what makes someone an empath, here is a self-assessment.
I invite you to check out my website and, by all means, let's dream awake a more tender world!