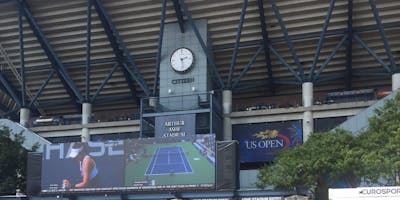 You are invited to join Abilities Tennis of NC on a trip to the US Open!  Let me start from the beginning....Net Generation offers a program for youth and adaptive programs to apply for 24 athletes to attend the US Open and perform a 10 minute demonstration on center court.  The 24 athletes and one parent, coach or caregiver are given a ticket to attend the US Open for the day.  Abilities Tennis applied and was selected to take 24 dedicated athletes to the 2019 US Open to perform on Wednesday, August 28th on Arthur Ashe stadium before the night match!  
Our tentative plans are to meet at a convenient location (to be determined closer to the departure date) in Raleigh at 7:30am on August 27th, board the bus, and head for NYC.  The bus will make at least one stop so we can walk around and pick up lunch. Feel free to bring a bag lunch which will save on time! (bring snacks)  When we arrive at our hotel, Grand Hyatt New York, we will check in and then eat dinner as a group.  On Wednesday, we can take our time getting to the Flushing Meadows Corona Park.  We are working on transportation to the venue.  Matches begin at 11:00am - we have tickets for the day and night matches.  We will meet at 5:00pm to prepare to go on court for the demo which will take place before the scheduled 7:00pm match. We will need to be patient because the wait could be extended depending on how long the prior matches take.  After the demo, we will all stay and watch the matches which will include at least one of the top four men and women in the world!  Thursday, August 29th, we will board the bus early (exact time to be announced later) to head back to Raleigh.  *We will have some extra seats on the bus, and we will have a drawing for these seats.  If you would like to bring another parent, please email [email protected] and I will add their name for the drawing.  The extra person will be responsible for purchasing their own ticket(s) for the US Open.  
There is much we need to discuss on the demo and this is very important.  Before you register, I would like for you to talk with your athlete and make sure they are amenable to the terms.  Net Generation uses short court and red balls.  All 24 of our athletes will be on one court with small nets set up for play.  Our athletes will demonstrate their control and footwork.  You can share with them that some of the best juniors in the world do these demonstrations at the US Open, using the red balls on short court, displaying their tennis skills.  If your athlete cannot hit the red ball with control or will complain at all about this requirement, I respectfully ask you not to register them.  We will have one practice session this summer so we are prepared.  Please watch the video sent by Net Generation:  demo.
*Athletes should wear white shorts or white skirt. T-shirts will be provided.
What I need from you:
Waiver (attached on email)
Register on Eventbrite
Watch video and practice with red balls (attend our practice – details to follow)
You will be responsible for food (not Tuesday night) and incidentals
If you would like to call me to discuss anything, I can be reached at 919-606-4917.  This is an incredible opportunity for our athletes, and I am excited about taking this adventure with you all!