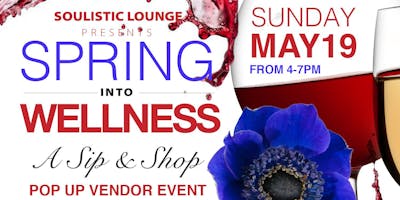 Spring Into Wellness is a Soulistic event — Join us for a small business marketing event bringing awareness to all areas of wellness. Come market, treat yourself and get some great information on physical, financial, mental, and spiritual health. 
5.19 from 4pm-7pm at the 1571 Irving St in Rahway
Come support these vendors who are going to have amazing products and services available for you 
•Jenelle Mon'e
•Carrot Bout Baby
•Thirty One
•Credit & Curls
•Lovelii Lotus
•Arbonne
•MaxLuxe
•Stella & Dot
•A Little Of This Designs 
•Michelle's Sunshine Designs
•Cache Appeal
•Beauty & Co Beauty Bar
•Momma Natura
• Catering by Kitchen Diva & Co
• Cake Pops by Leanna
Tickets are now available for purchase. Tickets will also be available at the door for $10. With each ticket you get a drink ticket. ID must be provided to drink wine. We will also be providing complimentary healthy drinks throughout the event.