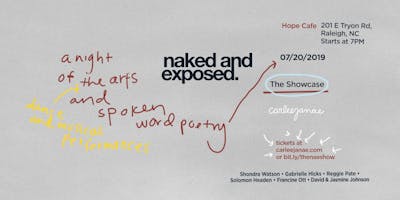 Please join us for a night of the arts and spoken-word including dance and live musical performances featuring Shondra Watson, Francine Ott, David and Jasmine Johnson, Solomon Headen, Reggie Pate and Hosted by Gabrielle Hicks.
Your ticket includes entrance, access to food, and entry for the giveaways.
The showcase is the stake in the ground for an end of a chapter in my current journey of becoming. Where all God has poured into me is poured out through poetry. Theme to be announced soon. 
I will stand beside some amazingly talented individuals who have decided to partner with me to birth what God has planted inside me. Each showcase has its own tools whether it be a book, a podcast, an album; those surprises in addition to the theme will be revealed closer to the showcase date.