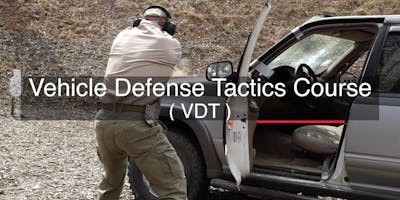 Every Day Ready is conducting a full day Vehicle Defense Tactics (VDT) course.
The objective of VDT is to educate students with regard to increasing protection in and around their vehicles, and provide training specific to vehicular defense.
VDT presents criminal targeting behavior, increasing situational awareness, defensive preparations, glass ballistics, shooting inside and outside the vehicle, and use of vehicle as cover. The course includes classroom, dry, and live fire training.
The VDT course is intended for anyone who desires to increase their defensive capability in and around their vehicle.  
Defensive Handgun Fundamentals (DHF), or approval by EDR, is a pre-requisite for attending VDT.
The cost is $200 per student.  
Training Location
6702 Wildlife TrailRaleigh, NC 27613
Google Maps link: https://goo.gl/maps/yb49D
Please respect our neighbors and proceed SLOWLY down Wildlife Trail past Dead Broke Horse Farm, and look for the Every Day Ready sign on the gate to the left. Drive through the gate and follow the gravel road all the way to the range site. Park on the left between the parking signs.
Reminder: Please read and obey all posted signs and regulations. All your firearms must remain secured or concealed until directed otherwise by EDR. DO NOT handle or display your firearms until directed by EDR.
Eligibility to Attend
Each student MUST submit a completed and signed EDR waiver.
Each student MUST meet pre-requisite requirements as noted above, or be otherwise approved to attend the course by EDR. Contact EDR wish questions.
Each student MUST meet all Federal and State laws to possess and operate a handgun
http://www.ncdoj.gov/getdoc/32344299-a2a7-4ae5-99fd-9018262f64ac/NC-Firearms-gun-Laws.aspx
https://www.atf.gov/file/11241/download
Student Required Items
A holster that fits your handgun (no SERPA, cross-draw, or shoulder holsters are allowed for safety reasons)
Extra magazine(s) and magazine carrier if available.
EDR recommends that you bring a minimum of 300 rounds
Eye protection approved for shooting (clear is best)
Ear protection approved for shooting
Appropriate clothing
Long Pants with a sturdy belt are required
Appropriate outdoor shoes, no open-toed shoes are permitted
A ball cap with visor is recommended
Jacket and layers to adjust for comfort (waterproof is recommended)
Hydration – EDR recommends at least 1gal of water per person
Lunch and snacks
Organizer Contact InfoPhone: [email protected]
Every Day Ready, LLC is a Raleigh based training organization providing exceptional training in firearms, self-protection, and emergency preparedness. EDR is provides a wide array of training for handgun, carbine, tactics, and medical. Our reputation for quality and customer service is unmatched.
Print, sign, and bring the EDR waiver to class with you. Please arrive for class at 7:30am when our gates open. Contact EDR with any questions.