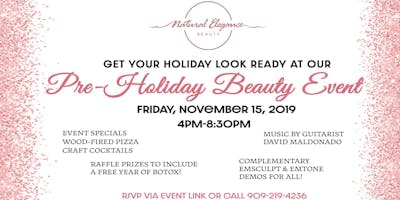 Get Holiday-Ready at the Natural Elegance Beauty Pre-Holiday Event!
Come join us as we celebrate the upcoming holiday season with specialty cocktails, gourmet pizza, live music and amazing raffle prizes!  
Specialty Craft CocktailsPizza Pie Specialty Wood Fired PizzaMusic by: Guitarist David MaldonadoComplementary Emsculpt & Emtone demos for all!
Raffle Prizes include:Free year of Botox, Free syringe of Juvederm Ultra Plus XC, Free ZO Product basket, Free Microneedling with PRP treatment, Free Signature HydraFacial Treatment, Free Laser Genesis Treatment, $200 Natural Elegance Beauty Gift Certificate and more!
Bring a friend and receive an extra raffle ticket!Please RSVP via event link, or by calling 909-219-4236!
Event Specials Menu
May be pre-purchased now through event day! Simply call us at 909-219-4236 to purchase.
Botox:Buy 35 units of Botox, get 10 units FREEBuy 45 units of Botox, get 15 units FREEBuy 55 units of Botox, get 20 units FREE
Jeuveau:$8 per unit (Reg. $10 per unit)
Juvederm Fillers:2 Voluma XC, 1 Juvederm Ultra Plus XC or Volbella XC and 35 units of Botox: $1999.00Buy any 1 syringe of Filler plus 35 units of Botox and get 20 units of Botox FREE!
Bellafill Filler (5 YEAR FILLER):Buy 3, get 1 FREE!!! ($1,000 Savings)Buy 4 get 2 FREE!!! ($2,000 Savings)Buy 5 get 3 FREE!!! ($3,000 Savings)
HydraFacial Packages:Buy Package of any 3 HyrdaFacials, get 1 FREE!Buy Package of any 6 HydraFacials, get 2 FREE!Buy Package of any 12 HydraFacials, get 4 FREE!
Emsculpt:Buy 1 area, get one enhancement treatment FREE and 50 units of Botox FREE!Buy 2 body areas and get 50% OFF your 3rd area & 50 units of Botox FREE!
Emtone:Buy 1 area & get 50 units of Botox FREE!*Buy 2 areas or more and get 50 units of Botox FREE & special event package pricing. Ask for details!
Emsculpt/Emtone:*Combo Emsculpt and Emtone treatments and receive special package pricing for both! Ask for details!
Microneedling with PRP:Series of 3 full face Microneedling with PRP: $1400! (Savings of $1,000)Series of 3 Full Face & Neck Microneedling with PRP: $1700! (Savings of $1300)
Laser Genesis Package: Extra 10 % OFF package of 6 ($535 Total with savings)Extra 20% OFF package of 12 ($950 Total with savings)
Laser Genesis/HydraFacial Package:3 Signature HydraFacials and 3 Laser Genesis Treatments: $720
Laser Genesis/Microneedling Package:3 Laser Genesis & 3 Microneedling with PRP Full Face Treatments: $1,760
Laser Hair Removal Packages:Brazilian Bikini & Under Arm Package of 6 each: $699Bikini and Full leg package of 6 each: $899
ZO Skin Health Products:Spend $200 or more on ZO products and get a FREE gift with purchase.