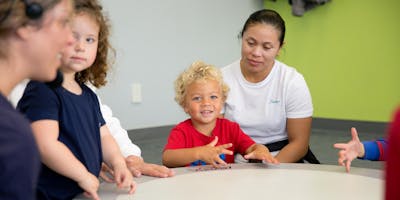 Join us for a FREE trial of our fun Family Music class - Mondays at 5:30pm, at Music Rhapsody.  Ages 1-4.
This class is a perfect way for families to learn music together.  Siblings also are welcome! 
In this Parent & Me style class, the child and parent learn delightful songs, dances and musical activities that include singing and keeping a beat to enhance timing, coordination, listening and language skills. High-quality percussion instruments are used as well as puppets, stories and colorful props to make this a very special music time.
More benefits: Here you bring more than one child and experience the advantages of everyone interacting, bonding, enjoying, and learning together. Repetition assists language development and memory, and improves coordination and timing. Helps young children express their feelings productively, and develops their imagination and ability to focus. 
Class length: 45 minutes
We hope to see you there!