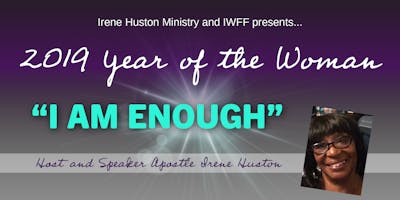 Irene Huston Ministries and IWFF presentYear of the Woman 2019 Conference "I AM ENOUGH"
One Day Only - Saturday, November 9, 2019
This Year's Theme is "I Am Enough, Discovering Ourselves"
Host and Keynote Speaker - Apostle Irene HustonAdditional speakers and special guests. All are welcome.
DISCUSSION TOPICS INCLUDE:

Break the chain to past issues

After the struggle

Is your focus on the problem or the means to an end?

Ask yourself, WHO AM I?

BE YOURSELF!

 
$30.00 TICKETS IN ADVANCE($40.00, after October 31, 2019)
Payment can be made through PayPal at [email protected]
Vendor Opportunities ($65 per table) available - call 510.778.2331 to reserve
FREE evening worship services